The Bendigo Bank Cats have finalised their 2019 playing list, comprising of 20 AFLW listed players and 20 VFLW listed players.

There are a host of familiar names, as well as some fresh faces from local and surrounding areas.

The 40-player squad includes 20 of the 24 2020 Geelong AFLW squad members.

That group includes inaugural AFLW captain Melissa Hickey, gun midfielder Rocky Cranston and impressive youngsters Olivia Purcell and Sophie Van De Heuvel.

READ – Bendigo Bank commit to VFL and VFLW programs

The Geelong VFLW program gives local footballers a platform to showcase their ability in Victoria's premier competition and further improve themselves in a professional environment.

The profound impact that the VFLW pathway can have on a player is evident through the 17 players that transitioned from local footballers to AFLW listed players through the VFLW pathway in the last 12 months.
Coach Natalie Wood with Amy McDonald.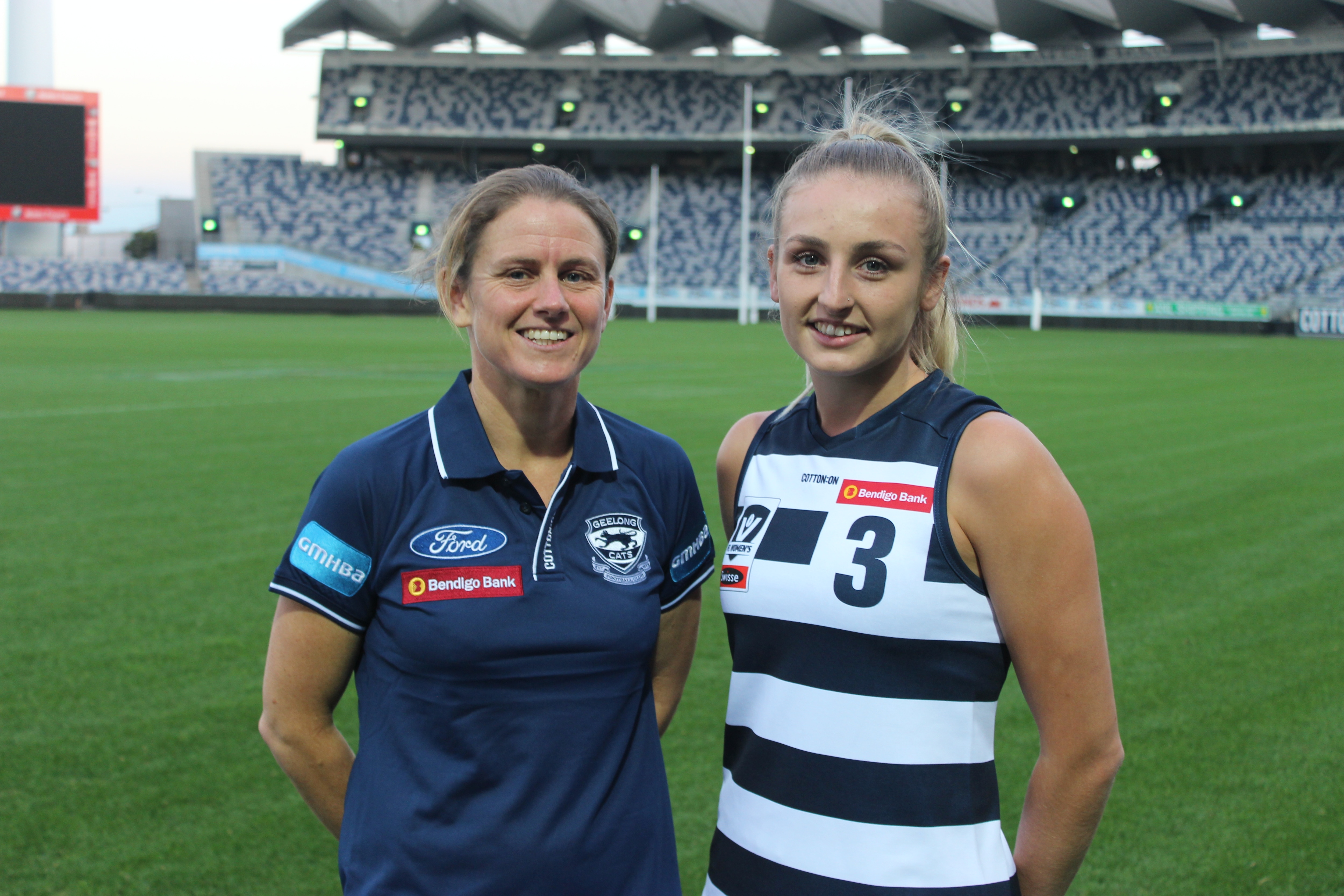 Ten 2018 VFLW listed players have been retained, while Breanna Beckley, Natalie French, Anna Haigh and Harriet Rowe have made the transition from the AFL Barwon competition to the VFLW squad.

As always, the squad will have a strong Geelong Falcons representation with five 2018 Premiership players featured in the squad.

Drysdale local Gabby Deller (Richmond VFLW) is the only VFLW listed player to join the squad from another VFLW list.

Geelong will open their season away to Melbourne University on Sunday afternoon at 2.30pm.

In a new offering for Cats' supporters, you can listen to the match live via the goFooty.live player on the Geelong Cats VFLW Hub.


VFLW Squad

Breanna Beckley, Ruby Benham, Cassie Blakeway, Maddie Boyd, Rene Caris, Georgia Clark, Rocky Cranston, Julia Crocket-Grills, Kate Darby, Sachi DeGiacomi, Gabby Deller, Michelle Fedele, Natalie French, Renee Garing, Bec Goring, Anna Haigh, Kaitlyn Haustorfer, Melissa Hickey, Zoe Inei, Jordan Ivey, Madeline Keryk, Tarryn Love, Madisen Maguire, Hannah Mangan, Amy McDonald, Madaleine McMahon, Danielle Orr, Bec Pearce, Olivia Purcell, Emily Ramsay, Georgie Rankin, Harriet Rowe, Daisy Smith, Denby Taylor, Laura Taylor, Anna Teague, Sophie Van De Heuvel, Rebecca Webster, Krista Woodroofe, Jaime Woollett