23 rounds, 17 opponents, eight venues, five states and 10 talking points. Our 2020 fixture in review.

WATCH: INTERNET CATS REVEAL 2020 FIXTURE
There's no place like home
The Cats have again secured nine GMHBA Stadium matches alongside two games at the MCG.
While Geelong requested 11 GMHBA Stadium home games, Easter Monday and Country Festival home games at the 'G makes for a fixture full to the brim of home game goodness.
Primetime Cats
The Cats' trip to the final four with its 2019 preliminary final berth means you'll be seeing plenty of the blue and white hoops on primetime TV. Geelong will play six matches under the Friday night lights, equal most in the league with Richmond.
Victorian Victory
In a win for Victorian members, the Cats will play a huge 16 games in their home state. There's something for everyone in the Cats' away Melbourne fixtures, with three Friday night MCG clashes to go with a Saturday twilight and an early Sunday outing at Marvel Stadium.
Princes of Perth
Geelong will certainly be well-acquainted with the west by the end of round six. The Cats will makes two trips west in the month of April, taking on the Eagles and Dockers just 22 days apart.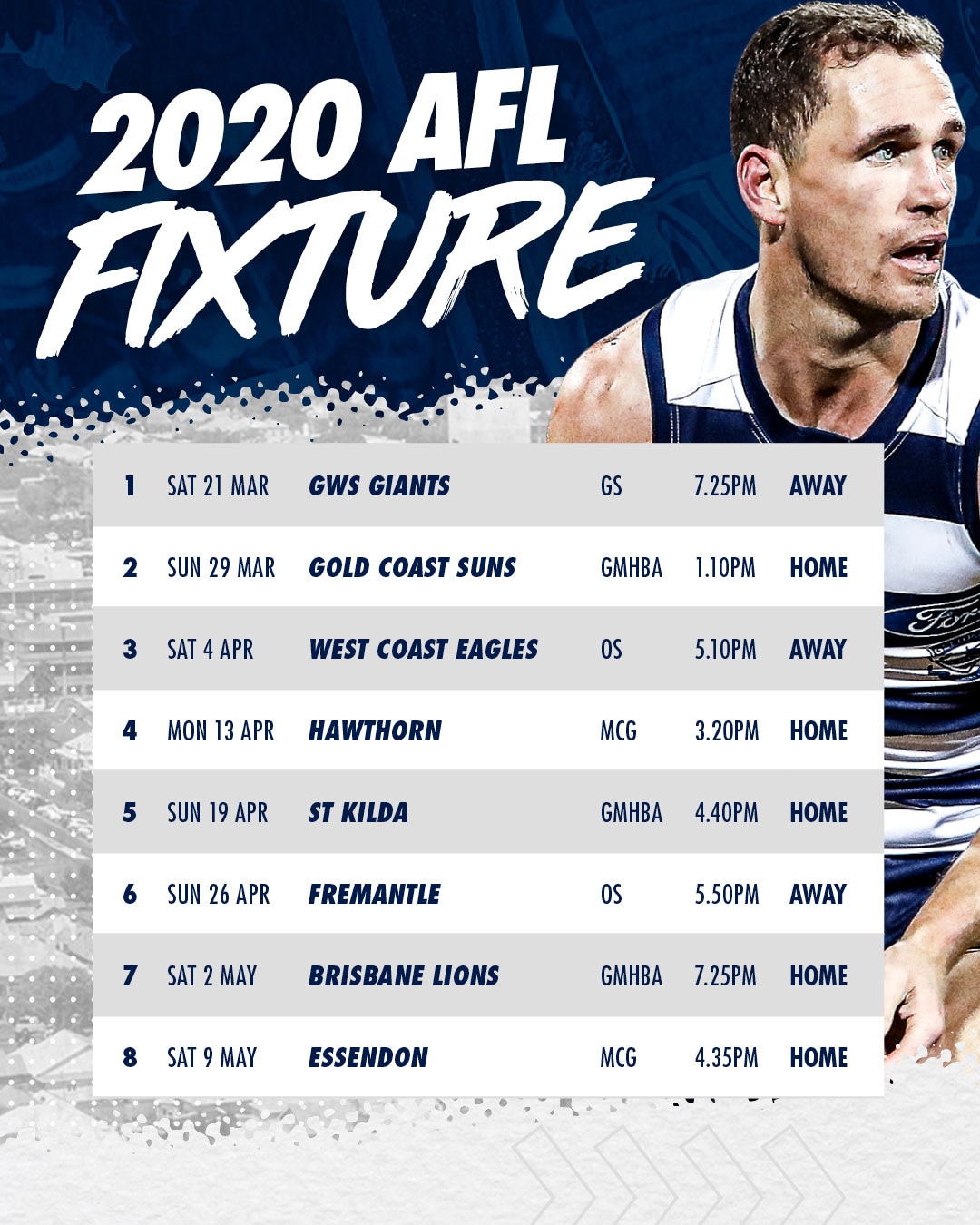 Busting the bye
Our next opportunity to bust our bye round blues comes with the added incentive of taking on a fierce rival. The Cats' Round 12 bye will be followed by a Friday night blockbuster with Hawthorn at the MCG as Geelong looks to end its run of eight consecutive post-bye losses.
Add the pre-finals bye to that and you have another five losses and a narrow finals win over the Hawks, taking the overall post-bye record to 1-12 in the last eight years.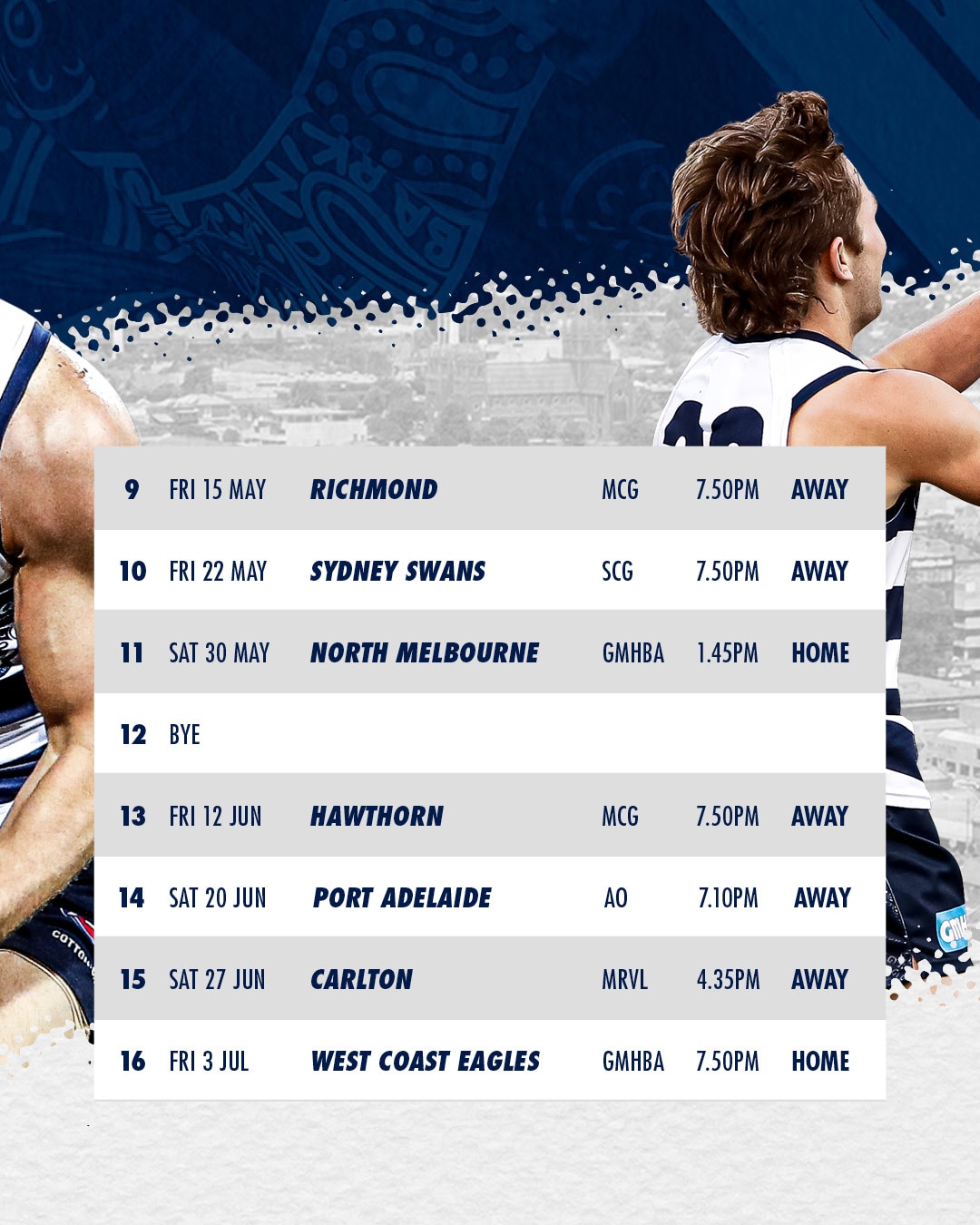 Cats turn night owls
Twelve night games, five twilight fixtures and four day game timeslots. Geelong will be playing plenty of footy under lights in 2020, with three of those games to be played at GMHBA Stadium and nine away fixtures.
Double Trouble
We'll see the Giants, Eagles, Hawks, Saints and Lions twice in 2020. With a top of the table home and away finish in 2019, there's plenty of high calibre opponents to meet this time around.
The Small Screen
Twelve of our 2020 outings can be seen on the seven network while nine will be broadcast by Fox. The final match of the year is still to be confirmed.
The Run Home
The year finishes with a flurry of GMHBA Stadium home games, including five of the last six games. Geelong's last interstate trip comes in Round 17 as the Cats play in Brisbane.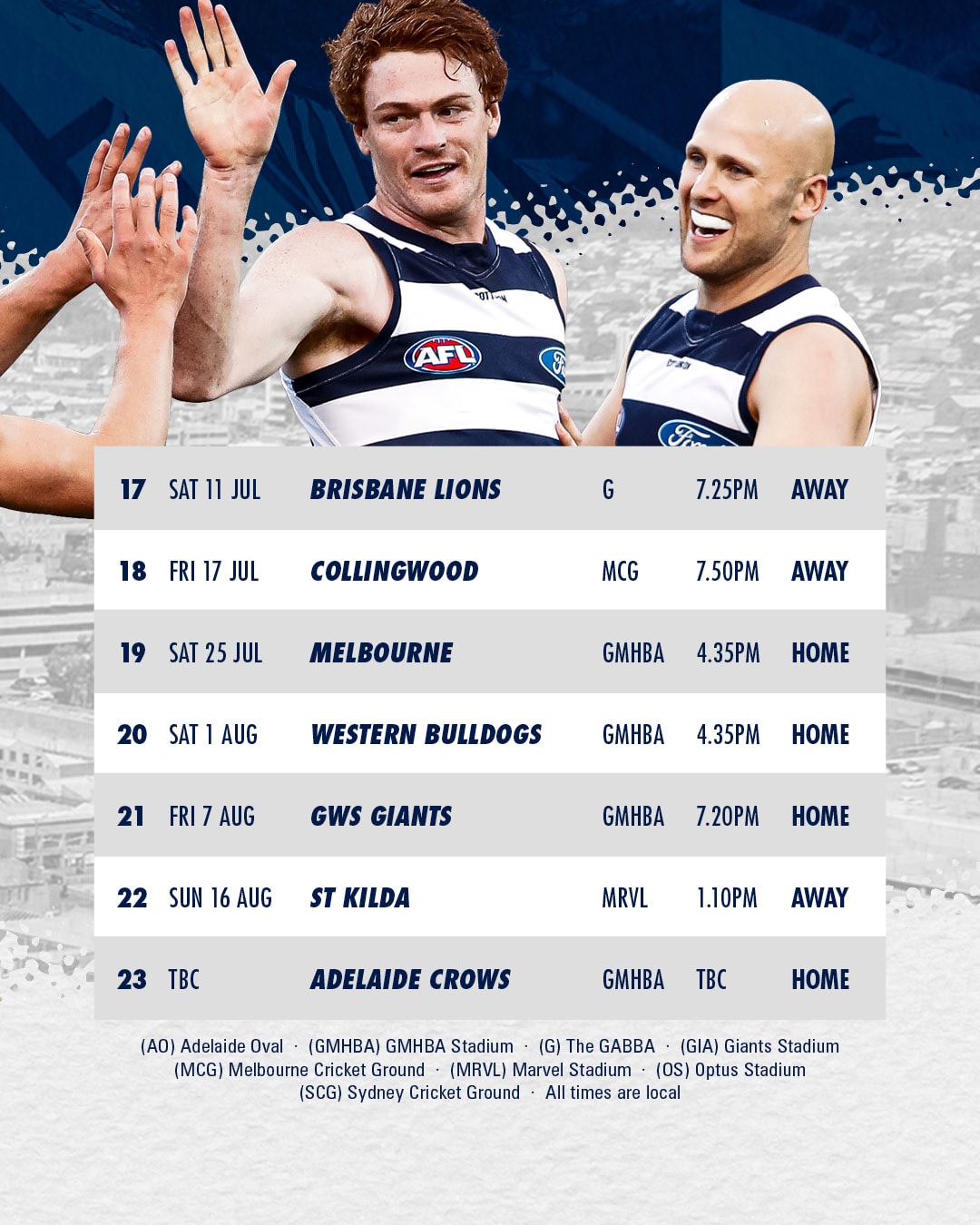 The Question Mark
The AFL's floating final round fixture means the time slot for our final round meeting with the Crows is still up in the air. The game is locked in at GMHBA Stadium, as once again the Cats finish the home and away season in front of their home crowd.