The Cats face their biggest test of the 2017 home and away season thus far, facing the ladder-leading Adelaide Crows at Simonds Stadium and Cats Media has identified three points of interest to follow:
Straight over the umpire's hat
The Crows have been praised as the game's most dynamic offensive team for some eighteen months now. In fact, Adelaide has scored 161 more points than the next best team in 2017.
But what if we told you that team was Geelong?
We know the Crows sit in first place on the ladder, whilst the Cats sit in third. That in itself makes this Friday night blockbuster even bigger. But digging a little deeper, the similarities between these two sides and their work forward of centre adds further intrigue.
As we enter round 11, Adelaide averages 60.2 inside 50's per game. Behind only rivals Port Adelaide, the Crows sit second in this area. They rank first in the AFL in converting those inside 50's however, going at 43.2 per cent.
Conversely, the Cats sit 10th in the league for average inside 50's, at 53.8 per game. We know Geelong has honed their ball movement from previous seasons, focusing more on quality of entry as opposed to quantity, and the fact they are only bettered by one side in their conversion rate (41.3 per cent) suggests it's working.
If you hadn't picked it up, by the way, that one side is Adelaide.
But to go one further, both sides – though vastly different in structure – are scoring goals from one in every four entries inside forward 50 (Adelaide 25.1 per cent; Geelong 25.1 per cent). The Crows have a forward line boasting with the likes of Walker, Betts, Jenkins and Lynch being fed nearly more than any other in the competition. The Cats have Hawkins, Menzel and at times, Dangerfield, Selwood, Motlop, but are seeing quality entry to those forwards in good scoring positions.
The long and the short of it is, we're expecting the scoreboard to be working overtime on Friday night.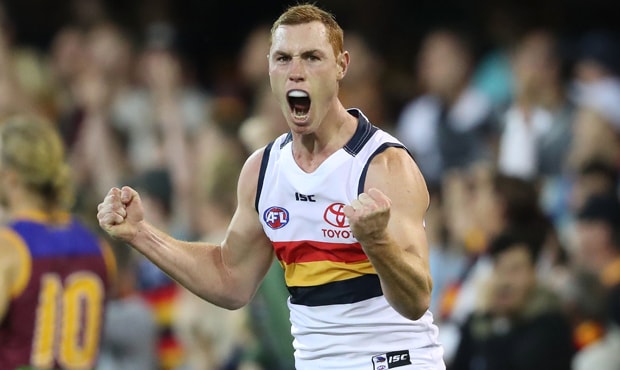 Tom Lynch is integral to the Crows' forward line and how it functions. (Photo: AFL Photos)
To tag or not to tag?
As discussed by AFL Media's Jennifer Phelan earlier this week, we'll either see what we all want, which is Patrick Dangerfield and Rory Sloane head-to-head. Or we won't.
If we don't, it could be because one coach or both decide to tag their opposition's best midfielder, in one shape or another
Traditionally, the Cats don't run hard tags, but with Scott Selwood now back in the side and in good form across his firs two games, the option is more viable now than ever.
"I think he'll [Selwood] have him at stages throughout the game. [Sloane] has been in some great form this year," Selwood's brother and captain Joel told RSN927 radio on Tuesday.
"He is the fire-starter for them, he's been playing some great footy, and we will need to make sure we calm his influence."
For the Crows, assistant coach Scott Camporeale said they're certainly thinking about how best to combat Geelong's prime movers in Dangerfield and Joel Selwood.
"They are two quality players and they are two big barometers for their footy team," he said.
"We haven't necessarily done it in the past, and that's not to say we'll do it on Friday night either, but it's certainly an option we need to think about, like we do every week."
As Jennifer Phelan also noted, Sloane sat on Dangerfield in their first meeting in round eight last season for 59 minutes. Dangerfield ended the match with 33 disposals but struggled by hand at foot with 51.5 per cent while Sloane had 28 disposals, 11 tackles and a goal.
Both Dangerfield and Sloane are touted as favourites for this year's Brownlow, and if they're allowed to run free from the tag, or even line up one another, we could see a battle fitting of the medal itself.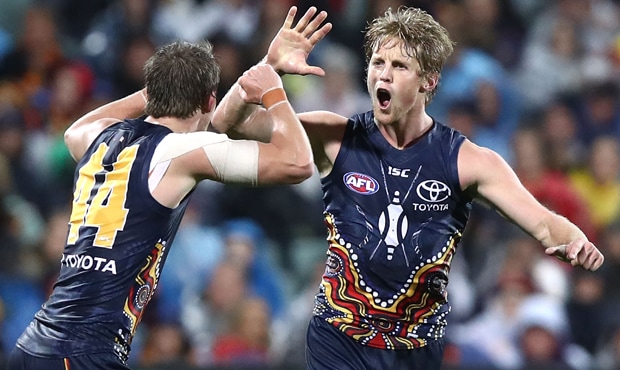 Adelaide's Rory Sloane has elevated himself to one of the competition's best midifielders in 2017. (Photo: AFL Photos)
The Tom Hawkins double-ton
Another week, another milestone. But take nothing away from Tom Hawkins and his 200th game tonight.
A father-son selection from 2006, Hawkins reaches 200 games as a two-time premiership player, one-time All-Australian, five-time leading goal kicker for the Cats and the 2012 Carji Greeves medallist.
And he's not done yet.
At age 28, Hawkins sits sixth on the Cats' all-time leading goal kicking list and by the time he's finished his career, could easily finished third.
He currently has 28 goals for the season, will add to that tonight, and hopefully celebrate his 200th game with a win.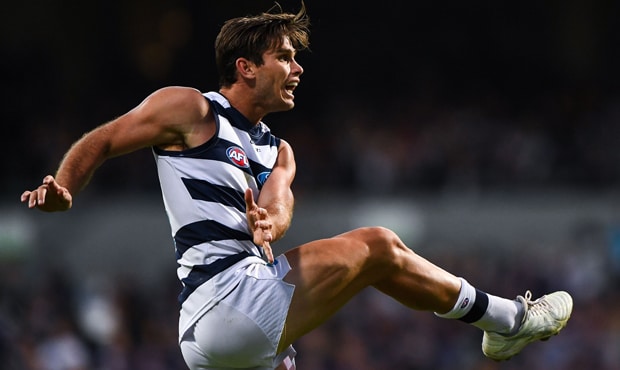 Congratulations to the big Tomahawk on game 200. (Photos: AFL Photos)