The Bendigo Bank Cats returned to the winner's list with a convincing victory against the NT Thunder at GMHBA Stadium on Sunday afternoon.

The Cats were dominant from the outset, leading at every change to claim the 9.8 (62) to 3.1 (19) victory.

Coach Natalie Wood was pleased with her side's performance.

"There were times when we had the ascendancy but there were times when NT were able to take some of that control back, so we were really happy for our players to be able to work through that and keep finding ways to come out on top," Wood said.

"Even right through to the end, scoring a couple of late goals just shows the girls willingness to play the four quarters out which was really pleasing."

Rene Caris was an impressive performer in the ruck and pushed forward to kick two crucial goals.

"Rene's last month has been really good, and she has been building week-to-week and getting a lot more confident," Wood said.

"She has always moved into really good spots on the ground and now she is starting to back her ability to win the ball and exit stoppages by driving her really long legs.

"(She) pushed forward a couple of times to get on the end of some good goals which is fantastic and that's the whole point of what this season has been about for us in putting time into the players, be it either players that are new to us or players that need to develop into other roles."

Jaime Woollett being a perfect example of that mantra against the Thunder.

"Woollett, who has been a defender for us for three years, she played forward on the weekend and had got on the scoreboard in the first five minutes, so the players adaptability to different positions and their willingness to learn has been outstanding."

Jaime Woollett in action against NT Thunder. Credit: Patrick Callow.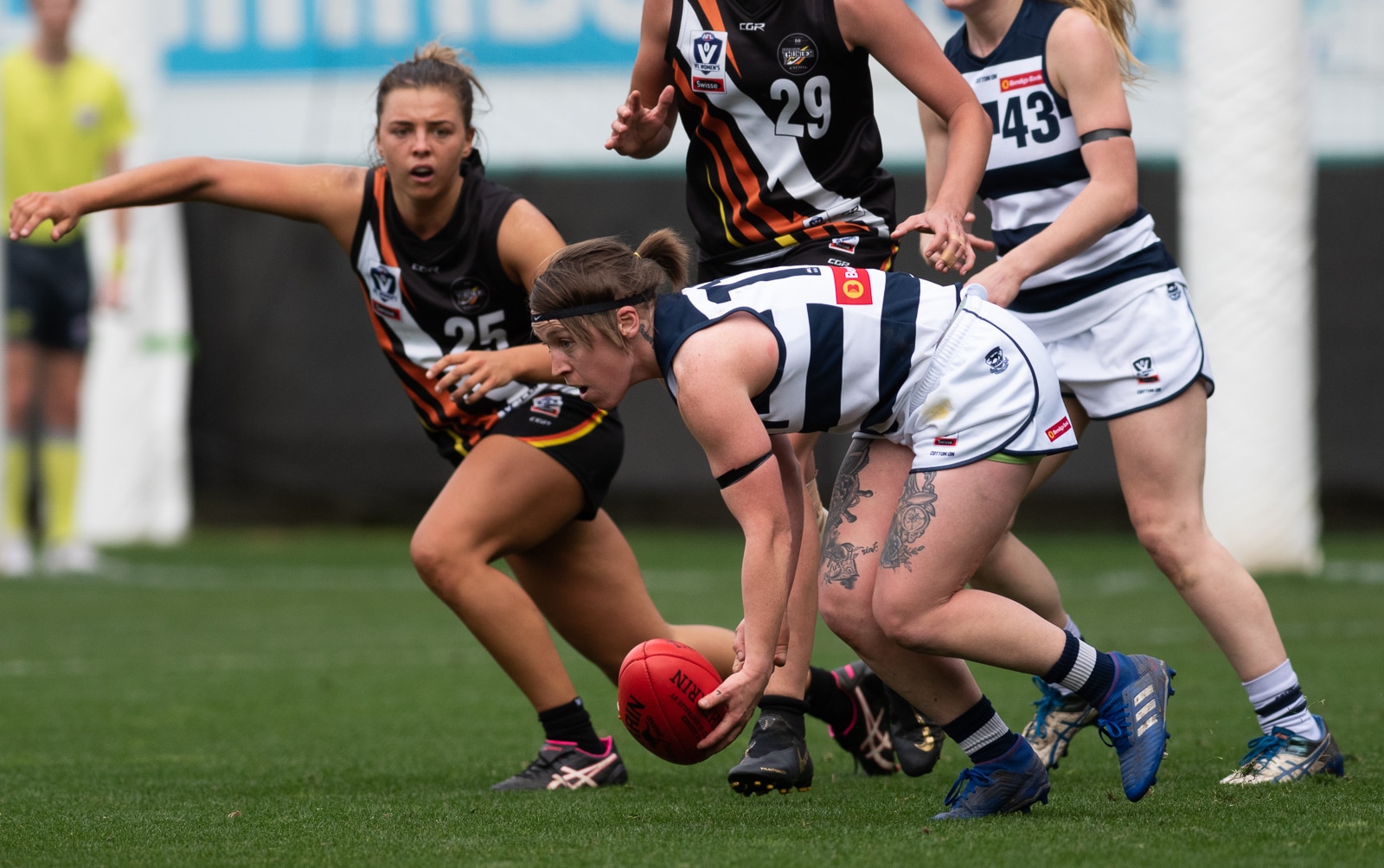 The 43-point win keeps the Cats firmly in the mix for a place in the finals, sitting just outside the top six in seventh with a game in hand over Melbourne Uni that sit a place above them.

"We have got three tough games to finish out the home-and-away season and we will be looking to try and find three wins there to take control and get into finals on our own merit.

"In saying that there are still things we are trying to work on with the players and also positionally, so we are going into the games with the idea to win, but also with our overarching development philosophy in mind."

Geelong host Melbourne Uni at Deakin University on Saturday at 1pm.


VFL Women's Round 13
Geelong Cats 9.8 (62) defeated NT Thunder 3.1 (19)
Goals: Caris 2, Clark 2, Van de Heuvel 2, Benham, Woollett, Maguire
Best: Webster, Cranston, Love, Caris, Van de Heuvel
Reports: Nil
Injuries: Nil
@GMHBA Stadium