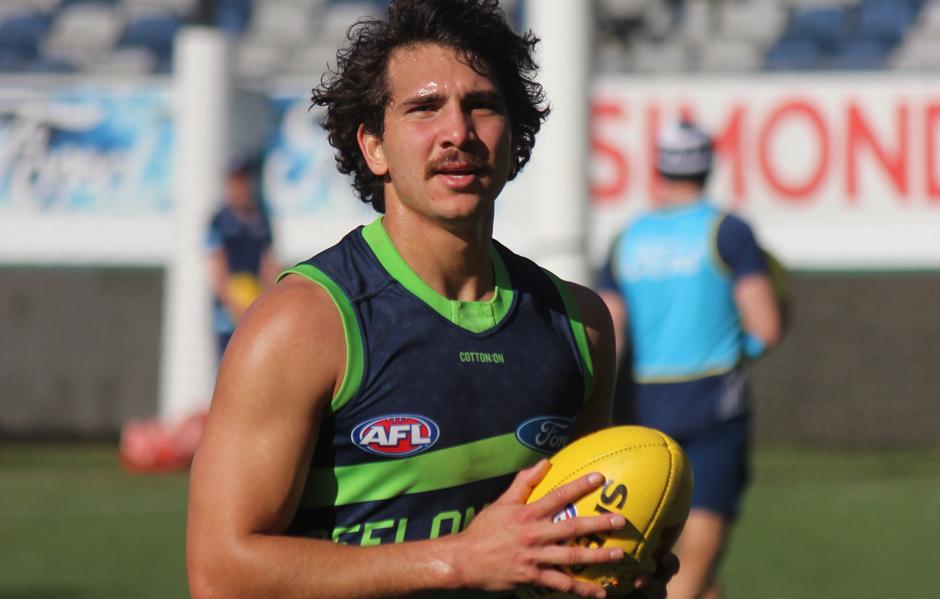 Nakia Cockatoo has returned to training with the main group, more than 450 days since his last AFL outing.
The explosive Cat most recently injured his PCL playing in the VFL in July of last year and has been sidelined for the last 12 months as he works his way back through the rehab group.
"Nakia Cockatoo is making good progress. He's going to join in training as well this week," Chris Scott said.
"He actually did a bit last week with the group which is a pretty big milestone for him. He's still a way off certainly playing AFL footy but even a little way off playing VFL footy.
"It's important I think that we keep updating you with his progress because it's been pretty much 12 months now that he's been out. He may seem a bit forgotten for our supporters but he's certainly catching people's eyes internally."
Patrick Dangerfield is 'likely' to play after his heavy weekend collision.
"Dangerfield was that one out of the weekend with that, I'm going to call it a cork," Scott said.
"That's probably not the official medical diagnosis but it's a bit early in the week to tell (if he'll play)."
Gary Rohan is on track to face the Bulldogs.
"Gary Rohan will be available this week. Effectively he missed with a head knock last week but there were other reasons that made sense for us not to play him last week."
"At the forefront of our mind was making sure he was in really good shape in other areas for AFL level which we think he will be this week, so you can lock him into an AFL return."
Sam Menegola is still some weeks away from a return.
"He is making good progress. I think I said last week that it was a little slower than we initially thought, which has been the case because they just did a bit more extensive work in that surgical procedure," Scott said.
"He's running really well and he'll join in training this week and look to play over the next couple of weeks we think."
"The part that's harder to forecast is when he'll come into the AFL team but I'm certainly confident that he will at some stage over the next month, but it depends on how he goes at VFL level."
Esava Ratugolea is uncertain for the weekend's outing.
"We'd like to think that he would be available this week but as you can imagine, he's important but still young. He's a big guy, really powerful guy with a soft tissue injury.
"The chances are we're going to be a bit more cautious with him.
The views in this article are those of the author and not necessarily those of the AFL or its clubs