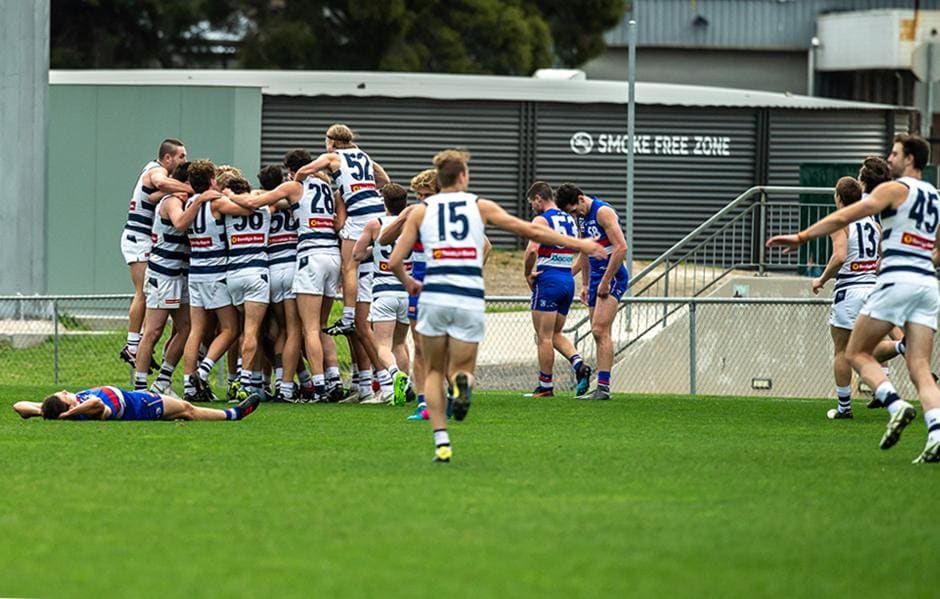 THE Bendigo Bank Cats have pulled off a one point come-from-behind victory against Footscray after trailing for much of the afternoon.
Only 69-points combined were scored between the two sides as drizzle fell across the afternoon, with a late Luke Smith point securing the victory by the narrowest of margins.
Epic win after trailing all day 👊🏻sing it loud boys pic.twitter.com/go5BLmffsi

— Geelong VFL (@GeelongVFL) June 2, 2019
Wylie Buzza was the Cats' leading goal kicker with two majors, while Jacob Kennerley, James Tsitas and Luke Smith all managed singles.
Zach Guthrie was Geelong's leading ball-winner, gathering 21 disposals, taking nine marks and rebounding the ball from the defensive end on seven occasions.
James Tsitas was ferocious in the contest, tackling nine times on the afternoon to lead all comers while also picking up 21 touches.
AFL Cats Scott Selwood and Charlie Constable picked up 20 and 19 disposals respectively, with Selwood laying seven tackles and Constable five.
Both men also got amongst the clearances, with Selwood managing six and Constable eight.
The Cats now sit ninth on the table with a four and four record and will now face Richmond on Saturday morning at the Swinburne Centre.
Geelong Cats 5.5 (35)
Footscray 4.10 (34)
Best: Z Guthrie, B Reid, J Jones, W Buzza, S Selwood, C Floyd
Disposals: Z Guthrie, Tsitas 21, S Selwood 20, Constable 19, Reid 17, Simpson 15
Goals: Buzza 2, Kennerley, Tsitas, Smith 1
The views in this article are those of the author and not necessarily those of the AFL or its clubs