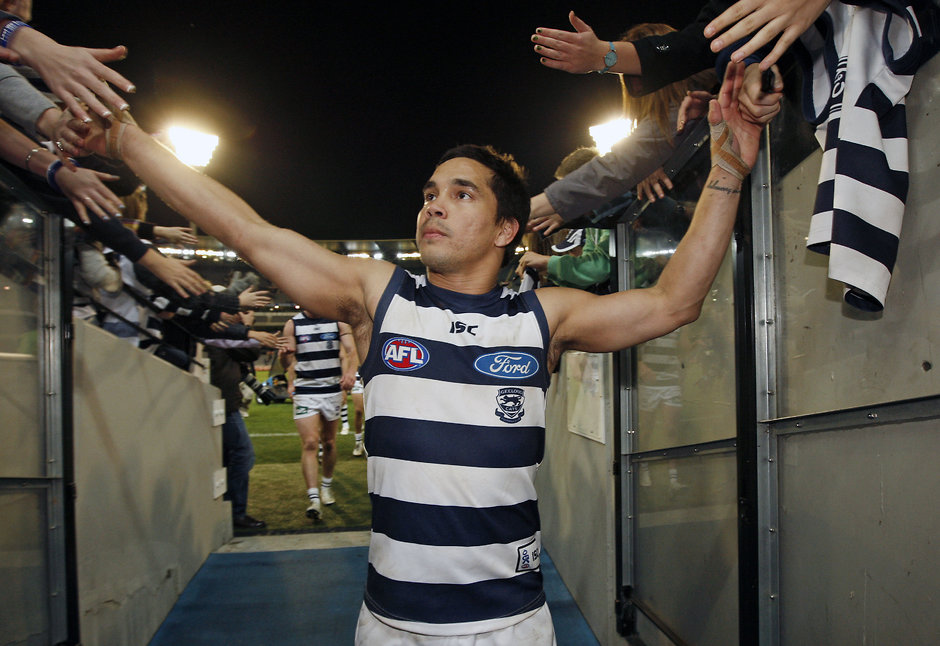 It does feel like home. It was kind of a pretty easy decision for me to come back.
Matthew Stokes
Two-time premiership player Mathew Stokes has returned to the Cats this week in a newly created role as the club's people and engagement manager.
Since retiring from football, Stokes has spent the past three years working at the AFL, where he was the league's Indigenous engagement and programs manager.
"It feels great to be back," tells Stokes.
"I had an amazing experience here as a player and was able to be a part of one of the most successful eras of our footy club. It does feel like home. It was kind of a pretty easy decision for me to come back."
Stokes, who began his new position on Monday, will work on a range of key objectives from community engagement, indigenous affairs and as mentor for the current playing group.
"I think the role is pretty broad at the moment but once we get going, once the season starts and once, I get my feet on the ground we will be able to steer it in the right way."
Stokes' role will have a large indigenous focus as he will work with the club's internal and external stakeholders to develop and implement an Aboriginal engagement, program and welfare strategy.
The 200-game veteran is also passionate about working with the current playing group and hopes sharing his experiences will help them achieve success.
"I think in general it's just about making sure that this group of players are given all tools and everything they need to create their own legacy. I want to see them create their own success and create their own memories and be part of something special like we were able to. If I can play a small part in that I will be pretty grateful."
Stokes looks back at his playing career at the Cats with fond memories and hopes that in his new role he is able to give back to the club.
"I think as a past player you are kind of always indebted to the club and I think coming back is a small way I can keep showing my appreciation for what they were able to do for me not only as a footballer but also as a person."
The views in this article are those of the author and not necessarily those of the AFL or its clubs