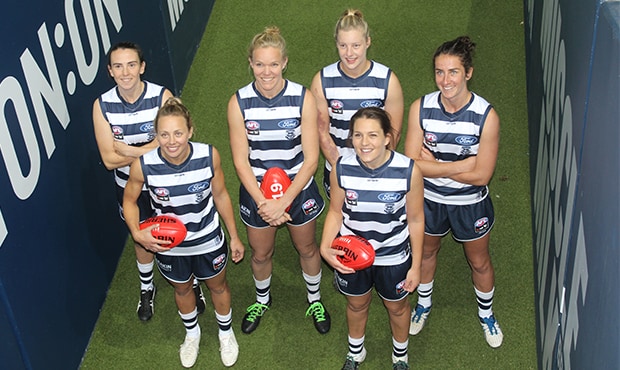 The Geelong Cats have secured six more players for the 2019 AFLW campaign, with Bec Goring, Renee Garing, Danielle Orr, Jordan Ivey, Kate Darby and Cassie Blakeway revealed as the latest players to commit for the inaugural season.

The six are among the Cats leading players at VFLW level, and join Mel Hickey, Rocky Cranston, Anna Teague and Erin Hoare as players signed for the 2019 season.

"We have said from the outset that we will have a heavy focus on providing pathways and opportunity for local players to progress to the highest level of the game," AFLW coach Paul Hood said.

"These six players have demonstrated through their ability, performance, dedication and values that they deserve a place on our 2019 AFLW list. We are encouraged by the fact that we have a balance of players that have strong background in football, along with players that made the switch to the game with the advent of the AFLW."

Geelong's Women's Football Strategy and Pathways Manager Simone Bellears said the club's commitment to develop local talent is clearly represented in the latest signings.

"We are excited to have secured such a talented group of women and will continue to build our list with an eye for the long-term success of the team and the game in this region," Bellears said.

"These are exciting times and we believe we will see even greater participation in the region with this announcement. The club will continue to discuss playing opportunities with players currently at other AFLW clubs as we build the list ahead of the 2019 season."

Goring is the Cats VFLW captain for second year running. She is a key defender and previously played three seasons with Melbourne University, where she was co-captain. In addition to being an elite footballer, Goring is a talented musician, having graduated from the Melbourne Conservatorium of Music. Goring played a key role in the club's successful presentation to the AFL to secure an AFLW licence for the 2019 season.

Orr is an accurate forward with a natural eye for goal. Orr was a successful GFL netballer before switching back to football in 2017. She has excellent agility and evasiveness and is a penetrating left foot kick. Orr formed a formidable partnership with Darby and was the Cats second leading goal scorer after playing every game in 2017. Orr is the sister of North Melbourne forward Shaun Higgins.

Ivey can play as either a forward or midfielder. Originally from Bendigo, Ivey played state league soccer with the Eureka Strikers before switching to football during her university days. Ivey made her AFLW debut with Carlton in the 2017 season, booting a goal with her first kick. She has overcome a ruptured ACL to secure her spot on Geelong's 2019 list. Ivey won the VFLW Goldfields league best & fairest in 2016.

Garing is a strong inside midfielder who made the conversion from netball to football in 2017. Her first season was a success, where she finished fourth in the Cats best & fairest after playing every game. One of Geelong's premier netballers before switching to football, Garing played at state league level for Geelong and was coach at St Mary's netball club. She is a three-time GFL netball best & fairest winner. Garing is an ambassador for the club's Just Think community program that educates young people around alcohol consumption.

Darby can play as a key position player, but is most likely to play forward with the Cats. Darby grew up in Macedon, and played junior football. The advent of the AFLW competition saw Darby return to the game, and she made her AFLW debut with Carlton in their first season before turning out with the Cats in the 2017 VFLW season. Darby was the Cats leading goal kicker in the 2017 VFLW season, and finished as the fifth leading goal kicker in the competition.

Blakeway finished runner up in the Cats VFLW best & fairest in 2017 playing as a midfielder. Currently completing a Masters of Teaching at Deakin University, Blakeway was a junior Victorian softball representative. Blakeway previously played with the Bendigo Thunder and was a member of the AFL Victorian academy squad.
The views in this article are those of the author and not necessarily those of the AFL or its clubs