In November last year, Cats vice-president Bob Gartland took out full-page advertisements in the Herald Sun and Geelong Advertiser as part of his campaign to find a photograph of every player from the club's history.
The ad featured a list of names, including Henry Molan and Con Ryan. The club's records stated that Molan had played five games for the Cats in 1904, while Ryan had worn the navy blue and white hoops on four occasions in 1907 and '08.
A few days after the ad appeared in the newspapers, Gartland received a call from a member of the Molan family who explained that her grandfather was on the list.
"Which one is he?" Gartland asked.
"Both of them," she replied.
"So both of your grandfathers played for Geelong?" an impressed Gartland said.
"No. Just one of them," she said.
Gartland was stumped. "I'm sorry," he said. "I must be misunderstanding what you're saying."
Then, to Gartland's amazement, he was told that Ryan and Molan were the same person. And he has since discovered that the reason for this anomaly is far from simple.
The man in question's real name was Cornelius Francis Molan. He was born in October 1886 and was known as Con.
Having become a local footballer of note while growing up in Colac, he was then recruited by the nearby Geelong footy club.
Molan made his VFL debut for the Pivotonians, as Geelong was then known, against Essendon at the Corio Oval on May 14, 1904. But after playing just five games he headed back to Colac.
Molan returned to the city of Geelong in 1907 and played footy with a local club. According to Molan family folklore, he was having a kick-to-kick in a paddock with a workmate when some strangers approached him.
"We're not absolutely sure about all this," explained Geelong footy club historian Col Hutchinson. "But his son, Michael Molan, is still alive and living down at Camperdown.
"His son thinks that a fella must have come up to Con and said, 'I believe you play football. What's your name?'
"And Con must thought that it wasn't a good idea to give his proper name to a stranger, so he made up a name on the spot.
"There was some suggestion that he might have been in a bit of strife with the army, but we can't be sure about that."
The stranger turned out to be a recruiting scout from the Pivotonians, and Con was soon enticed to have another crack at playing in the VFL.
But when he returned to the Geelong Football Club he decided to stick with the made up surname he had given the recruiting scout.
So he recommenced his career as Con Ryan rather than Con Molan.
"You can imagine the reaction of his teammates from 1904, who were still at the club at the club in 1907, when this fella walked back in the door and was suddenly calling himself Con Ryan," Hutchinson said.
"We can only assume someone must have asked him, 'What are you doing that for? Your name's Molan.'"
Any such reaction from the Geelong players at the time was never recorded.
The man calling himself Con Ryan was selected for the Pivotonians' game against Fitzroy at the Brunswick St Oval on August 17, 1907. The following Monday, the Geelong Advertiser reported that Ryan had made an impressive "debut".
A week later he played for Geelong against St Kilda at the Corio Oval, and he then made two more appearances in the hoops during the 1908 season. All of the games he played under the name Con Ryan were losses.
But why were the games that he played under the Molan surname back in 1904 credited to a man called Henry?
This error was made around 15 years ago when Hutchinson and his helpers were trying to track down the full names, dates of birth and dates of death of a number of players.
They had a record of a Molan playing for the Cats in 1904, but they did not know his first name. When they discovered that a certain Henry Molan was involved with the club at the same time, they came to the conclusion that they were the same person.
However, it turns out that Henry Molan was not a player after all.
"We now know that the Molan who played for Geelong was definitely Con Molan," Hutchinson said.
With the mysteries solved, Hutchinson is in the process of amending the club's records to show that a bloke by the name of Cornelius Francis 'Con' Molan played nine games in the hoops between 1904 and 1908. The name Con Ryan will become a footnote in Geelong's 156-year history.
In an intriguing end to the tale, Gartland was able to track down a photograph of the man with the two identities.
"The photo is split down the middle, a bit like Con Molan," Gartland said. "The irony is inescapable."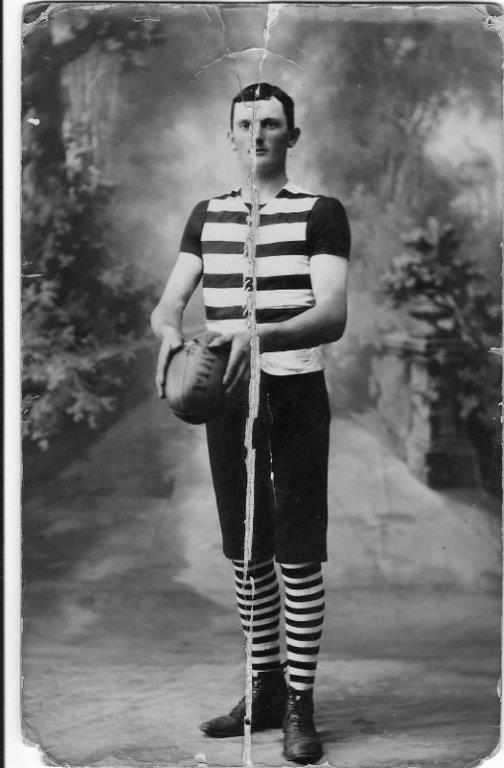 Henry Molan. Or is it Con Ryan?