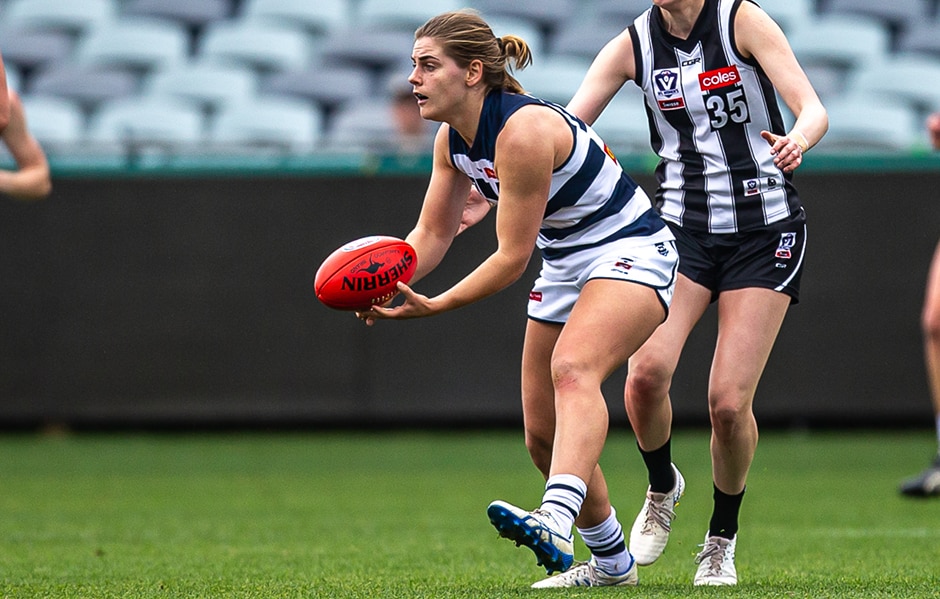 Geelong's VFLW side has suffered a loss at home on Saturday, falling to Collingwood 2.3 (15) to 3.4 (22) in a low-scoring affair.

It was a tough day for the Cats, as the Magpies applied pressure across the ground to keep the home side goalless in the opening half.

Collingwood kicked the only goal of the first two quarters halfway through the first term, as Geelong worked hard to make an impact on the scoreboard to little avail.

There was a momentary pause in play during the second quarter as Danielle Orr was assisted from the ground following a head knock in her first VFLW match of the season. The dangerous forward spent the remainder of the match on the bench due to concussion.

The Cats lifted their intensity in the third quarter and were rewarded for effort, as Jordan Ivey kicked a goal to narrow Collingwood's lead to seven points at the final break.

Geelong was determined to snatch victory from the Magpies and worked tirelessly in the fourth quarter, but a goal to the visitors midway through the final term all but cemented their win. Rebecca Webster booted the Cats' second goal of the afternoon with two minutes left on the clock, but it was too little too late as Collingwood claimed a seven point victory.

Geelong VFLW coach Natalie Wood said that she wasn't surprised by the tough contest that the Magpies brought.
"We always knew that Collingwood were going to bring a lot of pressure," she said.

"We tried to match that with them in the first quarter but they probably had it on top of us. We weren't able to get our exits out of the stoppage as quickly as we perhaps would've liked.

"I think we evened up the contests in the second quarter, and then in the third and fourth there was a bit better ball movement at times for both teams. Collingwood's players probably were a bit more precise when they got clear and it allowed them to get those couple of goals on the scoreboard.

"I really liked our endeavour in the fourth quarter, but we had just given too much to Collingwood too early and weren't able to claw back."

Despite the loss Wood was happy with how her fairly inexperienced side was able to adapt to the conditions.

"When we look at our team we have that level of inexperience, so to be able to adjust to some positional changes and some strategy changes that we were throwing at them in the fourth quarter was really impressive," she said.

"We were able to generate Becky Webster to get some forward momentum and it ended up in a goal, so the resilience of the group to keep trying and to not be flustered when we were trying to be a little bit more creative was probably the standout for me.

"It just shows the character of the players and their willingness to want to learn and develop."
Jordan Ivey was named as the Cats' best for the second consecutive week.

"Jordi Ivey again continues to provide a lot of strength and contest for us in the middle, and she's well supported," Wood said.

According to Wood there were players across the ground that played their roles well.

"I think in a contest like today it's really hard to identify one or two players when you don't get the ball particularly easily. At any point across the four quarters it ends up being a team result," she said.

"Our outside runners, Annie Haigh and Georgie Rankin are starting to understand the intricacies of their roles a little bit more.

"Then Becky Webster, to adjust roles with no notice, for a pretty young player to do that seamlessly is impressive.

"I thought our defenders as a unit was probably the best that they've been in the three weeks, so it was a team effort really."

The Cats face the Western Bulldogs next, and will look to continue improving the execution of their game plan.

"I think for us we won't go away from how we're trying to play, it's getting better at how we play it," Wood said.

"We're getting a little bit more finesse, being cleaner with our fundamentals so that we can actually get some chains of play a bit easier. We'll keep working at ways to implement what we're trying to do with that element of consistency."

Geelong will play the Western Bulldogs next Sunday at Whitten Oval in their round four clash.


VFL Women's Round 3
Geelong Cats 2.3 (15) defeated by Collingwood 3.4 (22)
Goals: Ivey, Webster
Best: Ivey, Webster, Rankin, Maguire, Caris, Blakeway
Injuries: Danielle Orr (concussion)
Reports: Nil
@ GMHBA Stadium
The views in this article are those of the author and not necessarily those of the AFL or its clubs