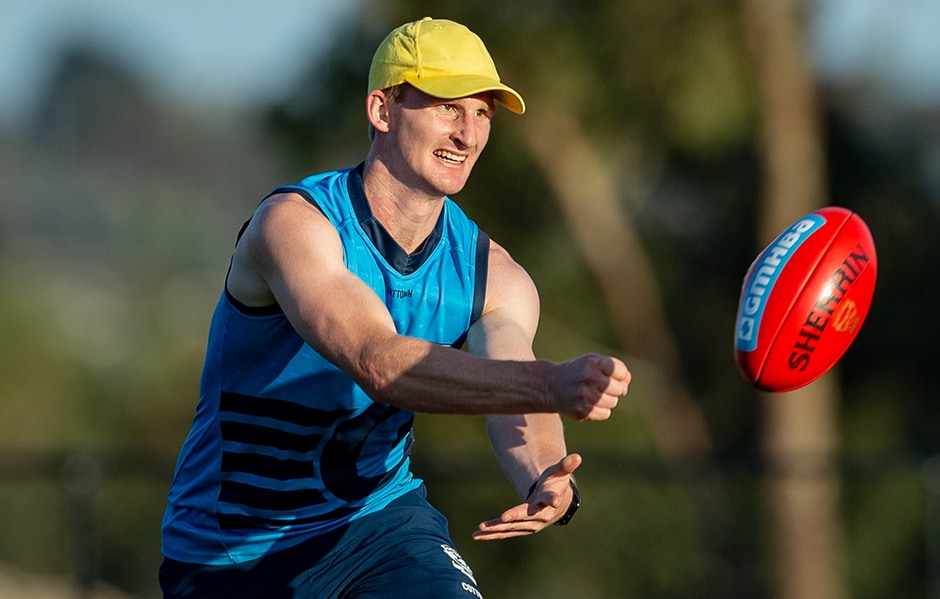 'One week at a time' is one of the oldest clichés in footy, but it was the mantra that helped Dean Gore get through his most difficult year as a footballer.

After the excitement surrounding his return to Geelong in early 2018, Gore suffered a heartbreaking ACL injury in the lead up to the VFL Cats' first practice match.

"You get to the time of year where you are really excited about starting to play games and then I did my knee," Gore said.

"Obviously I was very disappointed and pretty shocked, and it probably took me a couple of days to get my head around it."

While the midfielder was understandably devastated with the news, he was not keen to dwell on it, quickly changing his focus to recovery.

With a positive mindset, Gore supported his teammates as they embarked on the new season without him and he embraced the personal challenge ahead.

"I ruled out getting back during the season, so I thought I'm going to attack this and get ready for next year," Gore said.

"After getting the surgery done, it was all about just taking it one week at a time, as silly as that sounds."

The step-by-step approach made the year on the sidelines much less daunting for Gore, as he broke down his rehab into weekly goals.

"I would just break it down, from trying to walk again to reaching my strength goals, the little progressions along the way just feel so good," he said.

"The first time I rode a bike again was just awesome, then you get to running which felt like the most amazing thing ever.

"By ticking things off and getting those little wins, you just keep going until you get yourself to a point where you are back and fully ready to play."

Gore took that positive outlook into all aspects of his recovery and made sure to get the most out of his time on the sidelines.

"I had the opportunity to do some coaching along the way and that was great to be in the box and get a completely different view of the game," he said.

"It was really insightful, and all those learnings are going to help me a lot throughout the year."

Despite not playing each week, Gore remained a key member of the VFL squad and rarely missed the opportunity to watch games or training sessions.

His teammates reciprocated that support for Gore, and he developed strong bonds during his time in recovery.

"There was a couple of boys in rehab last year, Cooper Jones and Dan Capiron, who I'm actually now living with after I spent so much time with them," Gore said.

"We built such strong relationships and worked so hard off the track."

Almost 12 months on from the injury, Gore is back to full strength and is relishing all the aspects of training that he was deprived of for so long.

"The knee has progressed pretty well, I'm getting really fit and getting used to full game intensity drills," Gore said.

"Being able to tackle, crash in, get hit then get up again has been good, that was a milestone that I looked forward too."

The 22-year-old will be a welcome addition to the VFL side, and he couldn't wipe the grin off his face when talking about pulling on the blue and white hoops again.

"It's pretty exciting, there's a couple of trial games coming up and It'll be great to get back out there and crash in again."

The VFL Cats will kick off their practice match campaign against Essendon on Thursday March 7.
The views in this article are those of the author and not necessarily those of the AFL or its clubs