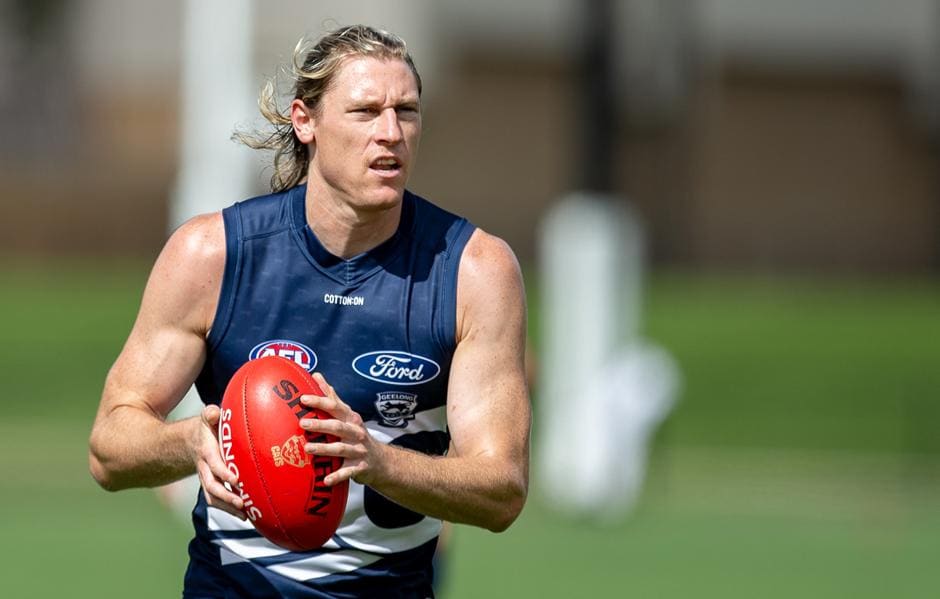 This is his backline now, he's the general and we've got to mould it around him.
Matthew Scarlett on Mark Blicavs
MATTHEW Scarlett has appointed Mark Blicavs as the 'general' of the backline as last year's Carji Greeves medallist settles in to his first pre-season as a defender.
The new cornerstone of the Geelong defence has his coaches eager to see what he can do with some preparation under his belt.
"The exciting part for us as a coaching group and him, is last year he didn't do any training in pre-season as a defender. We trained him as an on-baller and a ruckman," Scarlett says.
"The last month he's been training as a defender and he's been wrecking all our attacking drills, he just stopping everything so it's exciting for him."
Blicavs won his second best and fairest for the club last year in his new position after being trialled in defence in a JLT Community Series game against Tom Lynch and the Suns.
The 27-year-old Cat excelled against the best in the competition, conceding just three goals in 388 minutes opposed to Taylor Walker, Jesse Hogan, Jack Riewoldt, Ben Brown and Tom Lynch.
After a season learning the ropes, the versatile Cat has become a crucial cog in defence.
"This is his backline now, he's the general and we've got to mould it around him" Scarlett says.
"His leadership is unreal. We've got some young guys down in the backline with Zach (Guthrie) and Jack (Henry) and Mark (O'Connor), he's the real general down there."
"It's an area of the ground where you need to work with other guys on a regular basis. He's just getting rep after rep as a defender and learning to beat his opponent, learning to come off at the right time and help his mates and his in for a good year."
After bouncing around the Cats' line-up and landing in new positions from one year to the next, Blicavs appears to have finally found his home.
"I'm really enjoying being down in the backline for a consistent period of time now. They are a great bunch of guys down there and work for each other," he says.
The lockdown defender is ready to take on the responsibility that comes with his new position.
"We've had a number of young boys coming through now so amazingly I'm starting to feel a bit older.
"I'm trying to keep consistent with my voice, my marking and my intercept marking. I want to try and intercept a few more marks, continue to try and beat my opponent and help out my teammates.
"Harry has been doing it for years and so has Hendo and now I'm trying to use my voice a bit more and lead a bit more down there because we've got a good group and I just want to continue it."
The views in this article are those of the author and not necessarily those of the AFL or its clubs