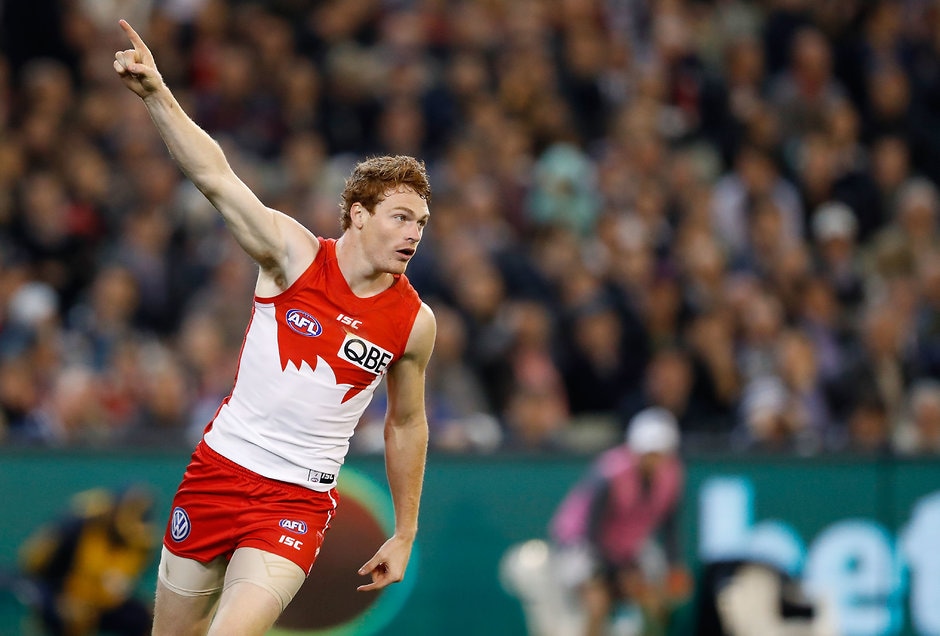 GEELONG will be looking to pile on the pressure in season 2019, with Cats list manager Stephen Wells confirming the likelihood of Gary Rohan partnering Luke Dahlhaus in attack next year.
Wells told NAB AFL Trade Radio that a third-round pick is around the mark required for the Cats to see Rohan pull on the hoops next year.
"We met with Sydney… that was good," Wells said.
"We had some good discussions with them and I'm very confident that deal will get done, it's just taking a little bit more time to work out."
The Geelong list guru believes Rohan can bring a different skillset to the Cats, compared to what the club has had available in recent years.
"We see Gary bringing forward line pressure to our club – he's obviously a very fast player who's willing to lay tackles and do things that we've struggled with over the past couple of years in our forward line," Wells said.
"He's also a very good marking player and we actually like his versatility. We think there's no problems at all with him going down back if required.
"We're just keen to get Gary into the club and hope that his footy goes well for the next period of time."
Wells also spruiked the ability of recently-signed free agent Luke Dahlhaus to give the Cats the forward line pressure they're seeking.
"Luke has had a terrific career with the Western Bulldogs and has been an elite performer over a long, long period.
"When he became a free agent, of course we had an interest in him.
"Our coaches are hoping for a forward line that can provide a bit more pressure than it has of the past few years for a variety of reasons, mainly unavailability we think."
"For Luke to come to our club as a free agent, we're very excited about that and we get the impression he is too."
Both Dahlhaus and Rohan signalled their desire to return to the Geelong region after playing for the Geelong Falcons prior to being drafted.
"It's a great footy region and we're very, very lucky to have that region in the area and have the Geelong Falcons help them with their development," Wells said.
"When they want to come home we're willing to listen."
The views in this article are those of the author and not necessarily those of the AFL or its clubs