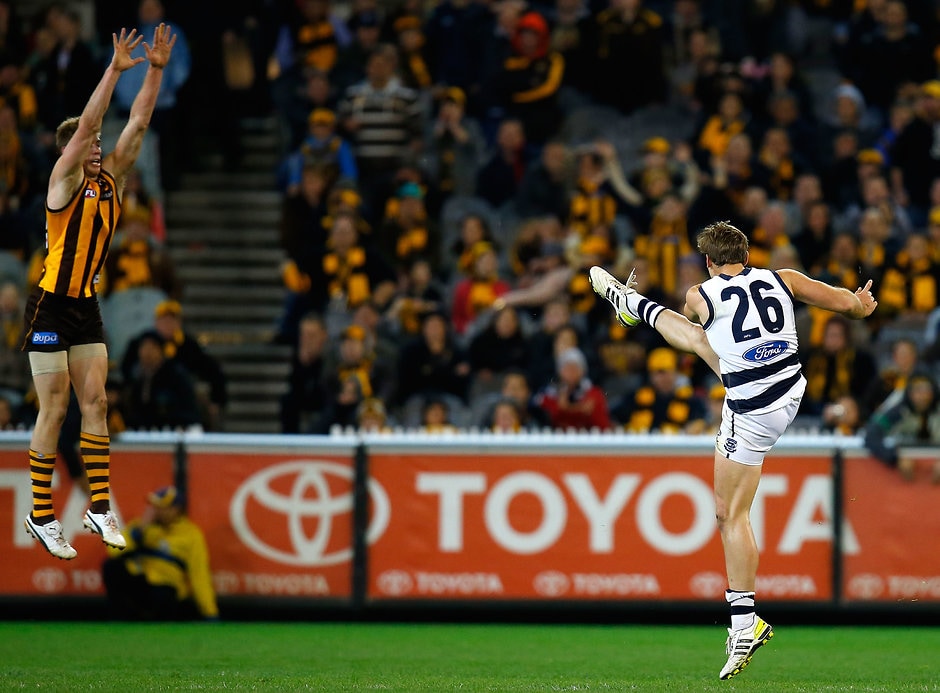 When we think of Geelong and Hawthorn games, we automatically think of the classics. The Tom Hawkins goal after the siren, the Jimmy Bartel point, the Isaac Smith miss. And this is reflective of how the rivalry has gone.
In each dominant period of the clubs, there have been some one-sided results, but there have been blocks of nail biting victories.
Since the turn of the century, there have been 11 games decided by a goal or less and a further four games by less than 10 points.
Geelong has won eight of the 11 games by less than a goal, with five of them coming in the 'Kennett curse' stretch of games. Geelong also won all of the further four games that were decided by less than 10 points.
Going back a little further, there were a further five games decided by less than a goal between 1995 and 1999. Unfortunately, Geelong were on the receiving end of those games.
Those five games were part of a period where the Hawks won all 10 games that were decided by less than 10 points between 1987 and 2000, including the classic 1989 grand final.
In total, the clubs have met 163 times with 41 of those games decided by 10 points or less. That equates to every one in four games played being decided by 10 points or less.
Hawthorn currently hold the lead with 21 wins to Geelong's 19, while there has been one draw.
On Saturday, Geelong will get a chance to get closer to squaring the ledger with a win as it is a must win for both sides finals hopes with Geelong currently sitting ninth and a game out of the eight, while the Hawks sit fifth and 11 percent out of the top four.
The views in this article are those of the author and not necessarily those of the AFL or its clubs