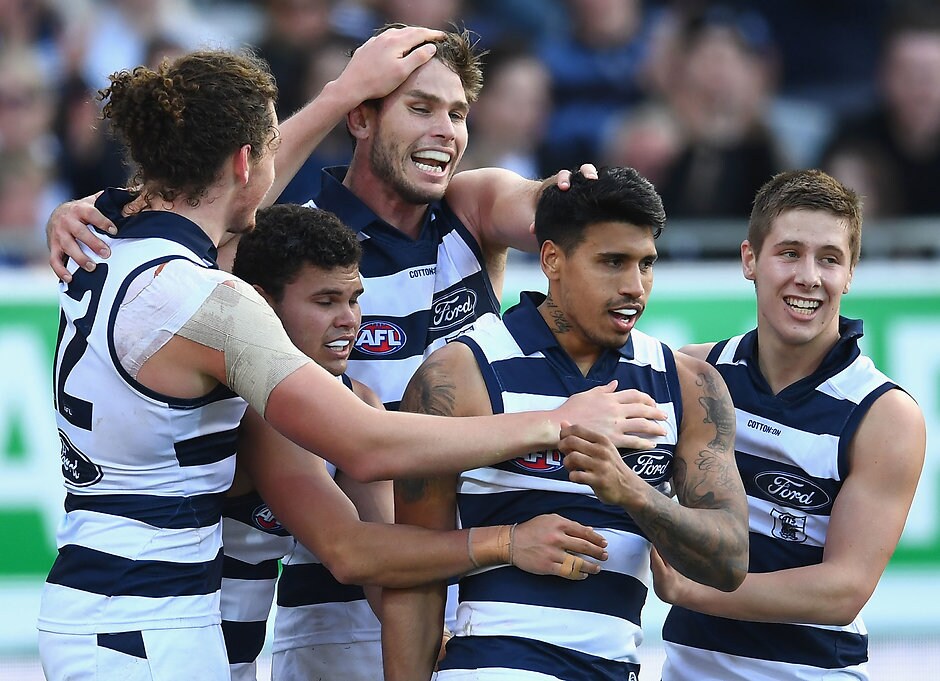 Sometimes you have to go back to go forward.
With collared jumpers, some beautifully manicured moustaches, a traditional curtain raiser and Greg Champions ode "The Thing About Football" blasting through the speakers, Cats fans at GMHBA Stadium on Saturday could have been forgiven for thinking they transported back 30 years.
But it wasn't just the off-field theming that was a blast from the past. The Cats brought back the hard-nosed attacking style that had been missing from games over the past couple of months. The Cats out pressured the Kangaroos despite the two sides sitting at the opposite ends of the AFL's pressure ladder.
But it was perhaps in defence that the Cats best had fans reminiscing of the days of old. The hairstyles were decidedly 80s but the cohesiveness and mix of dourness and attack was close to the Cats of the late 2000s.
Tom Stewart is doing his best impersonation of Matthew Scarlett, Jake Kolodjashnij is showing all of Tom Harley's poise, Mark Blicavs seems to have borrowed Harry Taylor's "Inspector Gadget" arms, Jack Henry looks as uncompromising as Darren Milburn whilst Jed Bews and Zach Tuohy bring the blend of David Wojcinski, Andrew Mackie and Josh Hunt.
But looking to the future, the Cats are going to need to continue to mimic the Cats sides of old but with their own significant changes including the much increased focus on forward half pressure. Like all their teammates, Brandan Parfitt, Jamaine Jones, Lachie Fogarty and Jordan Cunico are forging their own pathways through AFL football and it is encouraging to say the least.
Next Sunday, in a blockbuster clash with Richmond at the MCG, the Cats of young and old will need to come together to put the right finish on the final scene of the first act of the season.
Only six sleeps to go.
The views in this article are those of the author and not necessarily those of the AFL or its clubs