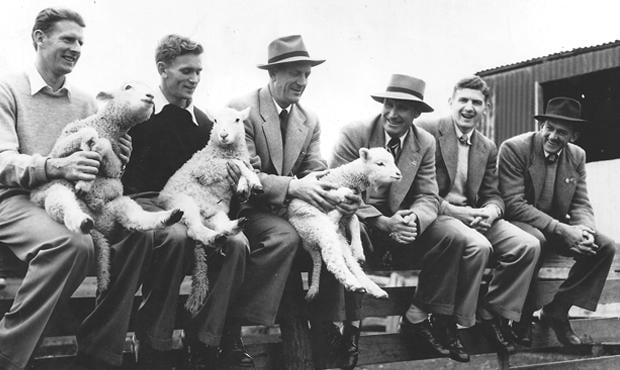 The links between the Geelong Football Club and the country delve much deeper than just the name and location of the town.
The country is a part of many current and former Cats who either grew up on farms or worked in the farming industry.
Tom Hawkins is a prime example, as he grew up on a farm in Finley with his father and former player, Jack Hawkins.
However Hawkins isn't the only player who grew up in a rural area, with many on the Geelong list and other AFL lists having connections with the country.
If we dive even further into our history, we find one photo of 1951/52 premiership players and coach Bill McMaster, Russell Middlemiss, Reg Hickey, Fred Flanagan, John Hyde and Russell Renfrey.
This photo, courtesy of the Gartland Collection, shows all six players sitting on a fence, with McMaster, Middlemiss and Hickey holding three lambs.
All six of these players were not only stars of the game and an integral part of our 51/52 premierships, but they all worked and contributed significantly to the wool industry, back when footballers weren't full time.
Bill McMaster grew up on his family farm at Lake Bolac where he produced wool.
Russell Middlemiss was a shearer.
Reg Hickey was a manager at Dennys, the wool brokers.
Fred Flanagan was the head of the wool department at Elders.
John Hyde was in charge of the wool books at Strachans.
Russell Renfrey transported the wool in his own trucking business.
Hickey was coach in our 1951 and 1952 premiership wins over Essendon and Collingwood, while Flanagan was captain in both years.
Earlier this year, both clubs warmed up for the main Powercor Country Festival match, when they played each other down in Colac during the JLT series. The crowd of 10,000 had a taste of the main Country festival, with a mini festival held.
The match between the Cats and Bombers kicks off at the MCG on Saturday at 4.35pm. Make sure you arrive early to the game to experience the Powercor Country Festival from 1pm.


Photo from Gartland Heritage Collection
The views in this article are those of the author and not necessarily those of the AFL or its clubs