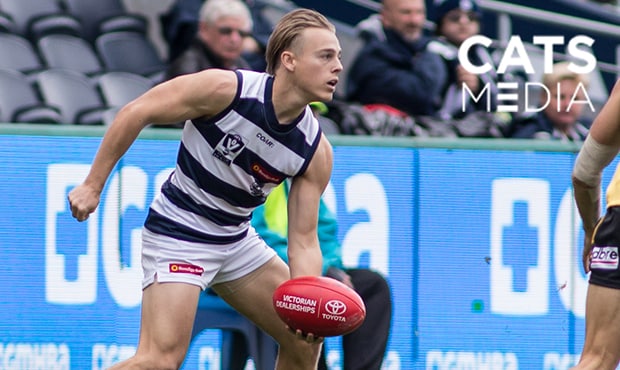 Despite his small stature, Jackson McLachlan is having a big impact for the VFL Cats.

In his first season of state level footy, McLachlan is the only Cat to be named amongst the best players in both rounds one and two.

The 170cm forward has a modest outlook on his start to the season and hopes he has a lot more improvement left in him.

"Personally, I didn't feel like I played as well as I could have, but for the team, I played my role which is what I needed to do," McLachlan said.

"It is good to be recognised for playing a role but I hope that I can give more to the group going forward."

It is not unusual for the 20-year-old to have immediate impact with a football team, as he made waves in 2017 with an incredible debut season at GFL level.

Playing his first full senior season with St. Joseph's, McLachlan achieved accolades that many would happily collect over a career in the league, rather than a single year.

He finished the season with 37 goals from 19 games to be awarded a place in the GFL Team of the Year and the GFL Interleague side, whilst finishing fifth in the league's best and fairest award.

McLachlan was also named the GFL's Rookie of the Year and achieved his dream of playing in a senior premiership with St. Joseph's.

Whilst he was humbled by the many individual awards, McLachlan was most proud to have the premiership medallion around his neck to truly cap off an incredible year.

"I didn't expect any of the accolades, even at the end of the year," he said.

"In your first year of senior footy you don't expect success, but it was an unreal experience to win the flag."

The grand final win was over St. Mary's, a perennial powerhouse in McLachlan's junior footballing days, making the victory that much sweeter.

"(St. Mary's) normally had the wood on us, I don't know if I could do with another loss to them," McLachlan said.

"We had an awesome team and it is hard to put into words that moment when we won it but it was definitely celebrated hard."

Despite the numerous awards that he achieved in 2017, McLachlan did not see himself playing at a VFL club this season.

"You see all the talent in Geelong and the GFL and you think you're not really a chance with such a big pool to pick from so I didn't picture myself playing (VFL)," McLachlan said.

"Knowing there is limited spots, I never thought I was actually going to make it until I signed the contract, which was fairly late in the preseason."

The former Geelong Falcon earned his spot in the squad due to his quality skillset, ability to find the goals and persistent forward pressure.

McLachlan sees the latter as his biggest strength and a focus on improving it has been a big reason for him starting the VFL season strongly.

"I think bringing that defensive pressure first is important," he said.

"I haven't kicked too many goals in the VFL as of yet, but it has been my focus to bring that pressure as a small forward and then hopefully expand from that."

Despite being the smallest player on the Cats' list, McLachlan is not afraid of the contest and has been one of the top tacklers in the Cats' two opening matches.

What he lacks in height, McLachlan makes up for in football smarts and to his own accord, an unrivalled ability to talk his opponent out of a match.

Whilst he is yet to bring that aspect of his game onto the VFL field, McLachlan says it comes down to confidence.

"In the GFL, I did (sledge) a lot as I got a more confident, but here in the VFL I haven't said too much," he said.

"I wouldn't say I'm extremely lippy, but going forward I'll probably get more confidence and therefore a bit more talkative."

Like former Cat Andrew Mackie, McLachlan believes the tactic is a way to get an edge against your opponents, mentally rather than physically.

"If you come across as cocky, you aren't going to get the greatest reception from other players but it gives you that perceived confidence," he said.

"It is sort of the small forwards role to let the opponent know that the pressure is coming and to have them on their toes as defenders – if that means being lippy then so be it."

Geelong's VFL coach Shane O'Bree has been impressed with McLachlan's start to the season and believes he is playing his role well for the side.

"He is a good little player, brings pressure around the contest and he is looking more confident every week," O'Bree said.

"(Against Sandringham) I thought he really lead the way as our high forward with his pressure."

Having an experienced coach like O'Bree has allowed McLachlan and his fellow teammates to develop swiftly over the preseason and come together despite being a relatively new group.

"(O'Bree) has been awesome since day one, he has reviews before training and makes it clear the structures that we want to play so by round one, it came naturally to all of us," McLachlan said of his new coach.

Having access to AFL facilities and coaches has been a welcome change for McLachlan and he believes it will play a major part in his ability to grow as a player.

"With the new facilities now, it is probably one of the best that a VFL team is going to get so it is great to get that experience," he said.

"For me, it is about using those coaches to develop my learning and with the facilities, you have to make the most of them."

Despite his young age and rapid rise in the GFL and now VFL, McLachlan is yet to dabble with the idea that he could play at a higher level.

The VFL has proved to be a solid pathway to earn a place on an AFL list but the young Cat does not want to get ahead of himself.

"I don't feel like I'm at the stage where I can say it is a realistic aspiration," McLachlan said.

"It takes a lot of commitment to be an AFL footballer and I had never been exposed to that until joining the VFL.

"I think I'll just try and put my best foot forward in the VFL and see where that takes me."

The VFL Cats' next match will be on Saturday at GMHBA Stadium when they take on Footscray.
The views in this article are those of the author and not necessarily those of the AFL or its clubs