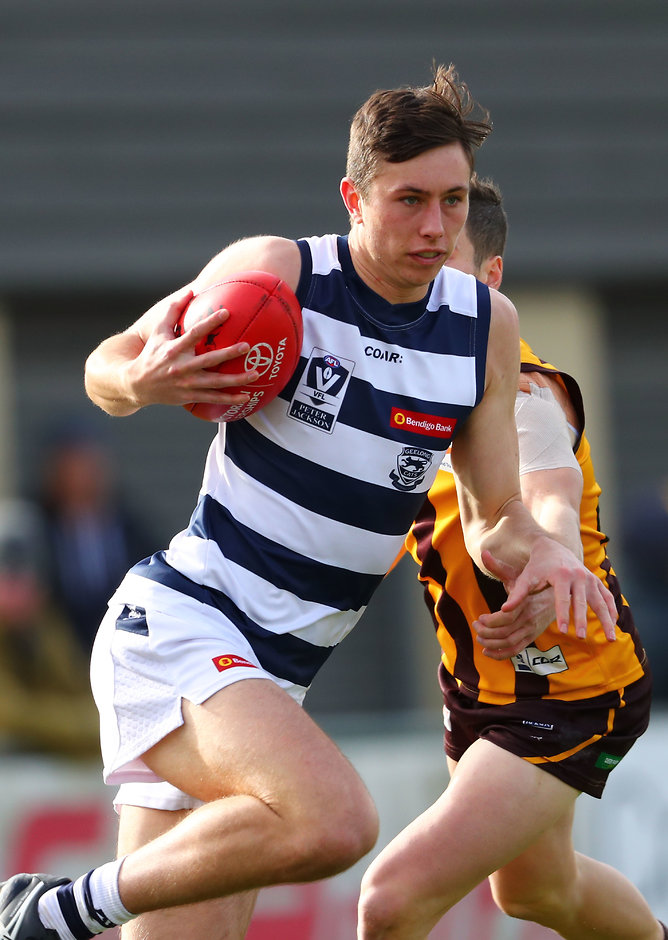 Growing up a drop punt away from GMHBA Stadium, Jack Henry is used to knocks on the door from mates dropping over.
But on Thursday night, the knock on the door wasn't a mate looking to head down to Henry's junior club St Mary's for a kick of the footy.
It was his coach, Chris Scott.
And despite not expecting to see the Cats senior coach at the door, Henry knew something fishy was happening when the club's football department contacted him on Thursday afternoon.
"I got a little message from Leanne (Geelong Cats Football Administration Coordinator, Leanne Napper) saying that Lloydy (Geelong Cats GM of Football, Simon Lloyd) was going to drop past with something to give to me, so at that point I was a little bit suss." Henry said
"I was at a mate's place who lives around the corner, so I went home and was waiting around a bit and get the knock on the door expecting to see Lloydy.
"I open the door and Scotty's standing out front of the home.
"I was just a bit like there is definitely something going on here."
It didn't take long for the reason for Scott's surprise visit to become clear.
"He just asked how I was going and asked if I'm ready to go Monday." Henry said.
"I was pretty shocked and lost for words."
The two then spent time going over what the debut would mean.
But whilst a moment like this is private between the player and the coach, the Henry household was definitely not empty.
"Everyone was home, and they knew Lloydy was coming, or that story anyway."
"They were doing their little thing but were definitely aware after the doorbell rang, they had their ear to the door!"
"I walked back down after Scotty left and they were all standing there with grins up on their faces!"
Henry's junior years were as typically Geelong as it gets. He was a student at the prodigious St Joseph's College, he played his junior football at St Mary's (located in the Kardinia Park precinct) before he graduated to the Geelong Falcons.
It's these close ties to his hometown, that will drive Henry on Monday as he looks to take on the Hawks tall timber of Jack Gunston, Ryan Schoenmakers and Jarryd Roughead.
"It's such a close, tight-knit town, I remember after Scotty told me I told about three people that I was going to be playing and it turns out I ended up getting messages from everyone."
"It's really exciting to be able to represent Geelong as a whole and make people proud."
Click the video above to watch the full interview.
The views in this article are those of the author and not necessarily those of the AFL or its clubs