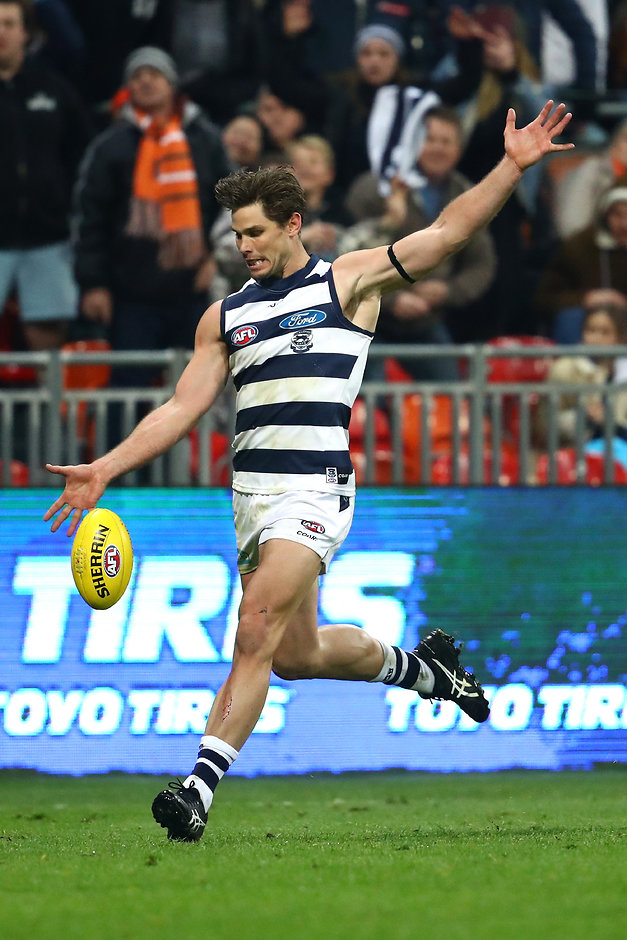 I'd be lying if I said it put me off
Tom Hawkins
Cats star forward Tom Hawkins says the umpire's whistle played no part in his after-the-siren miss against Greater Western Sydney last weekend.
With his side trailing by a point, Geelong's leading goal scorer marked inside 50 on a slight angle, with just seconds remaining on the clock. Beginning his run up, the siren sounded and within a few steps the umpire's whistle could be heard as Hawkins went to drop the ball onto his boot.
The shot was pushed wide but the no two-time premiership player says the whistle played no part.
"I heard the whistle as I was coming in, but it certainly didn't put me off," Hawkins told K rock Football.
"I have had the question asked a couple of times, but I'd be lying if I said it put me off."
Undermanned and without their captain Joel Selwood, the Cats delivered a truly gallant performance – typified by the blooding of three debutants against the ladder-leading Giants.
Wylie Buzza, Zach Guthrie and Sam Simpson all impressed in their first outings at senior level and Hawkins says not securing the win for his new teammates was most disappointing.
"I was really disappointed on the night and the next morning."
"I would have loved to have kicked the goal, [not only] because it's pretty cool kicking goals after the siren, but because we put up such a brave effort.
"There was so much excitement among the group with the three debutants, and they all played their roles.
"I was probably more disappointed in the fact I didn't kick it for them because your first game's pretty memorable and to win against the top side when a teammate kicks a goal after the siren would be pretty cool.
"But, to be honest, I've moved on pretty quickly."
The Cats will now face Brisbane at the Gabba on Saturday night.