After three losses, the Cats sit at 5-3 ahead of an historic night for the club. Cats Media have indentified four points of interest to follow through what is a must-win game against the Western Bulldogs.
Back to the future, Charlie
First thing's first: tonight is one of the most monumental moments in the history of the Geelong Football Club.
Tonight, the new $91 million dollar Charles Brownlow Stand will be officially opened to the public following a two and a half year build.
The Brownlow Stand is a state-of-the-art facility unlike any other in the AFL. It's focal point is an enhanced football department which will ensure no player wants for anything, as well as improved media facilities, a new social club and further hospitality, ticketing, membership and merchandise spaces.
The new stand will also house the Sunrise Centre – a facility set to serve the local community in rehabilitating those who suffer serious injury and assist in their return to the workforce.
Importantly, the completion of this stage four redevelopment will increase the capacity of Simonds Stadium to 36,000 and host our most passionate supporters and members, many of whom generously dug into their own pockets to donate to the Our Ambition project.
"We started with this vision in 2001, a masterplan … and over the four stages we've spent $200 million in total amongst all of the stakeholders," Cats' CEO Brian Cook said on Thursday.
"It's taken 16-17 years and it's been a real task."
"But when your dreams come true, or a vision becomes a reality, it is very comforting in the soul."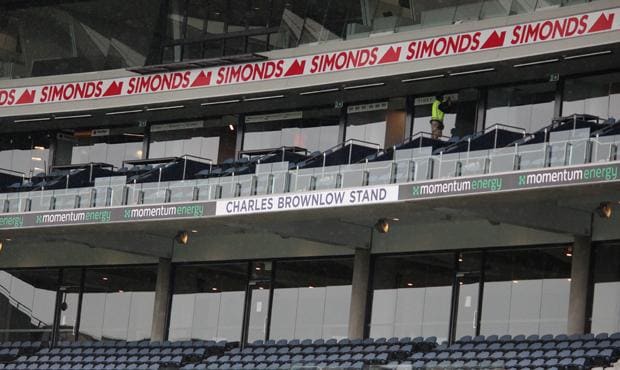 The finishing touches are applied to the Charles Brownlow Stand. (Photo: Cats Media)
And now the football
It's been well documented the Cats are in a slump. Losses to Collingwood, Gold Coast and Essendon in consecutive weeks has Geelong losing three in a row for the first time since 2006.
Back then, John Howard was in power and Backyard Blitz was still on television. How times have changed.
2006 was also the last time the Cats lost four in a row, which is a distinct possibility now as they face the reigning premier on Friday night at Simonds Stadium.
The Western Bulldogs welcome back their skipper Bob Murphy, premiership players Tory Dickson and Dale Morris as well as recruit Travis Cloke and hard-nosed midfielder Mitch Wallis for his first game in 10 months.
The Cats have their ins too with Scott Selwood to play his first for the season and Lachie Henderson returning to provide much-needed stability down back.
Neither side is going as well as they would have liked, but with a logjam of teams at 5-3 and many tipping both Geelong and the Western Bulldogs to be in the mix come finals, this looms as a good, old-fashioned "eight-point game".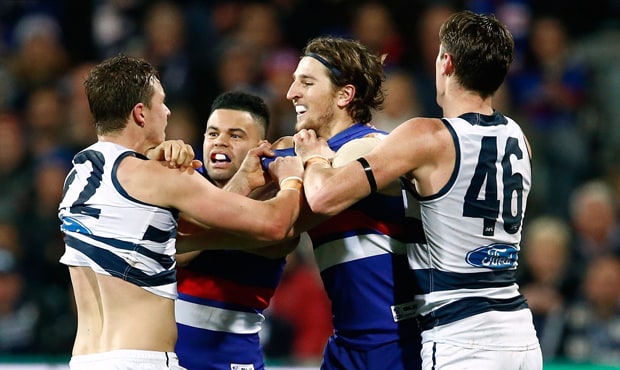 Both the Cats and Dogs need to win what looks to be a season-shaping match. (Photo: AFL Photos)
Time to Scoot
It's easy to forget Scott Selwood is a former vice captain and club best and fairest winner for West Coast. Any time you can bring a player of that calibre into your side is certainly a good thing.
The 27-year-old has battled a debilitating ankle injury in recent seasons but having arrived at Simonds Stadium via free agency in late 2015, Selwood turned a corner half way through last year to make his long-awaited senior debut for his new club.
He would go on to blanket Sam Mitchell and David Zaharakis in key games for Geelong and finished the season strongly before taking that form into the pre-season as the Cats' best summer performer.
The injury curse plagued him once more, however, as a foot injury ruined what was a faultless pre-season. But after four games at VFL level as part of a structured plan, Scooter is ready to be unleashed on the AFL.
At his best, Selwood is an inside weapon who thrives on the contest, tackling and going to the opposition's best midfielder when necessary. His work rate is perhaps matched only by his brother and the Cats will be much better for having him in the side.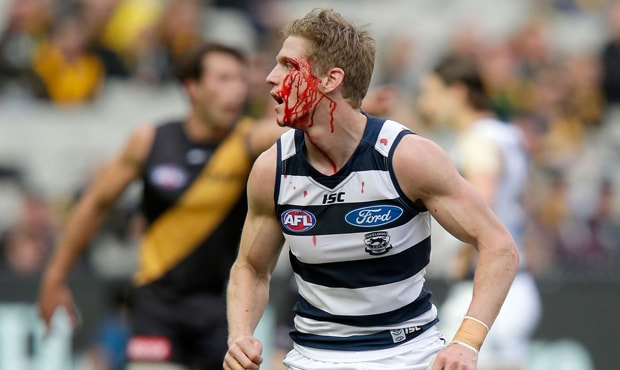 Scott Selwood is a hard, contested midfielder who will makes the Cats better. (Photo: AFL Photos)
Kickin' for Chickin'
Through the ages, philosophical debate has raged as to whether "perfection" can exist. We're here to tell you it can – and its called "Kickin' for Chickin".
Thanks to KFC, if any opposition player lines up for a set shot inside 50 in the last quarter and then misses out on the full, it's free Zinger burgers all round!
That means if Travis Cloke shanks one, anyone with a Cats' membership or a ticket to the game can head to one of seven KFC stores in Geelong and get a free burger.
The promotion will run for the rest of the season at all Simonds Stadium games, so if you're feeling hungry you might want to get vocal in the fourth quarter.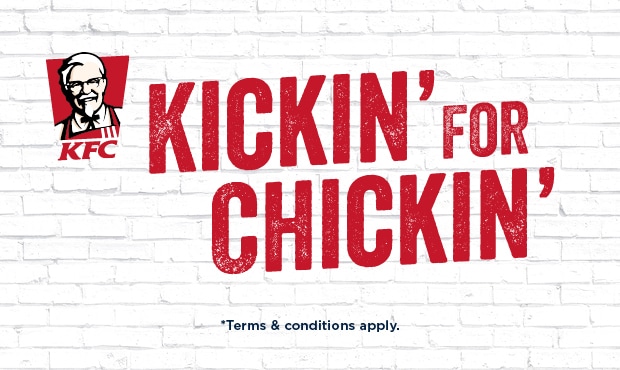 You're looking at perfection. (Photo: Cats Media)