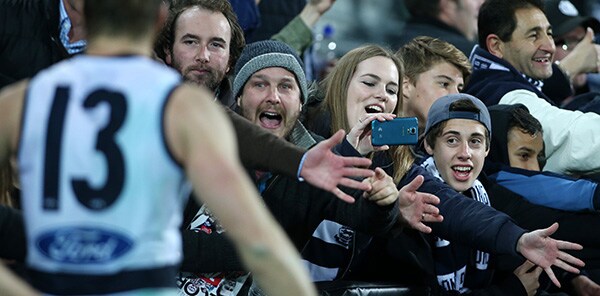 GMHBA Stadium is close to public transport links within Geelong and for patrons planning to head down the highway from Melbourne or interstate. Jetstar flights arrive at Avalon approximately a 30-minute drive from GMHBA Stadium.


Getting to games
Click here to view more information on getting to home games.


Tickets & Membership
To purchase your tickets for the Geelong Cats next home game, click here. To sign up as a Geelong Member with access to GMHBA Stadium home games, click here.


Accessibility information
Click here to view more information on accessibility at GMHBA Stadium, including the Sensory Zone


Holding events at GMHBA Stadium
Events and conferences are serviced by Higher Mark. To take your event to the next level, click here to contact Higher Mark to make a booking today.


Click here for further information on GMHBA Stadium via the Kardinia Park Stadium Trust website


Stadium History
From those early days when the Club was founded in 1859 various venues were used around the Geelong area for playing football. The local clubs ready to participate in this new manly game of football and eager to take on the Geelong Football Club. They included Kardinia, Barwon, Corio and the West End Football Clubs.
Games were played on "Church Hill" in the vicinity of Gheringhap, Moorabool, Ryrie and McKillop Streets. As a result of another meeting during 1860, held at the British Hotel, Corio Street, a game was arranged against a Melbourne Districts team. The game was played on a paddock between the Argyle Hotel and Pakington Street. A.M.Mason was the Geelong captain. The game consisted of a 25-a-side and ended in a scoreless draw after three hours of play.
One eyewitness to this game highlighted the early trend to violence in our national game. The critic from the Advertiser quoted:
"There is one very objectionable feature in their play, which I hope that they will get rid of next season.
"I allude to that of charging with their arms straight out in front and their fists closed as if they are going to participate in a free fight".
Although there was a difference in the skill level of the local clubs compared to Geelong and the Melbourne clubs, it is recorded, for example, that Kardinia scored a three-goal victory over Essendon in 1874.
The Argyle ground was to be the Club's home ground for some years before it came to an abrupt end in 1878 when the ground's owner, Silas Harding received a bill for unpaid rates, which the club had forgotten to pay. Harding was so angry, he ploughed up the field and cut down the goal posts. As a result, the club moved to East Geelong in the Eastern Park to a picturesque site known as Corio Oval, a matter of a few kicks of the football from Corio Bay.
A pleasurable characteristic was that the supporters were able to position their horses and buggies on the embankment in the outer and watch the game in comfort. In 1877, Geelong joined the Victorian Association as a Foundation Member, it was known as "The Seagulls" for years in 1877, became better known as the "Pivotoinians", because Geelong was the pivot point for all railway and shipping for Ballarat and western district merchandise.
The Club for the next few years was of nearly complete domination as from 1878 Geelong won seven VFA premierships in nine years. Corio Oval was to be the headquarters for the Geelong Football Club until 1940 when the ground was taken over for military training. It was then a case of move again, this time to Kardinia Park in Moorabool Street. It is of interest that the name "Kardinia" is an Aboriginal word meaning 'sunrise'.
Since then the ground has played host to the Cats' most successful eras with six successive top four finishes between 1951 and 56, including premierships in 1951 and 52 as well as four grand final appearances between 1989 and 1995.
Located 75 kilometres south-west of Melbourne but only a kilometre from the Geelong city centre, GMHBA Stadium is a modern stadium but one which still gives fans an old-fashioned footy experience with its relaxed atmosphere and standing room terraces.
With a capacity of about 27,000, the Cats regularly play in front of full houses and visiting teams are always relieved if they can leave Geelong with the four points in their keeping.
Right from the very first game, the ground hosted in 1941, there has always been drama aplenty in matches at Geelong.
That first ever game was won by the Cats by just two points after St Kilda failed to score with a kick after the final siren.
Twenty-six years later the Cats would win their first home game of the season in similar circumstances when a shot for goal by Bill Ryan after the final siren gave them victory over Collingwood.
Throughout the 1980s, Geelong home crowds used to rise as one to the incredible marking and goalkicking feats of Gary Ablett while modern-day fans will not forget last year's emotional farewell to club champion Garry Hocking in the final home game of 2001.
Formerly known as Kardinia Park, Shell Stadium, Baytec Stadium, Skilled Stadium and Simonds Stadium, GMHBA Stadium has been Geelong's home ground for the past 60 years.