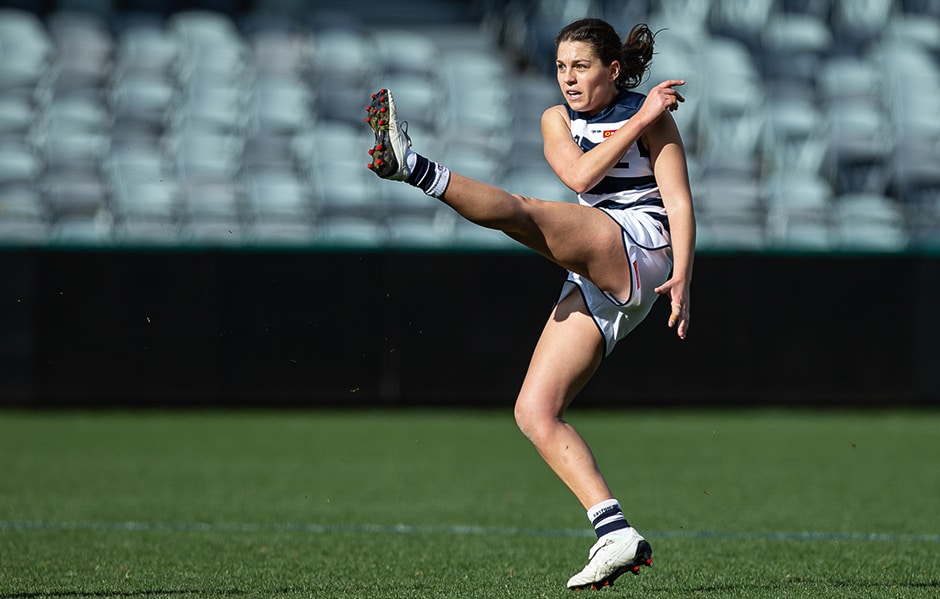 Geelong's VFLW side has returned to the winner's list with an impressive performance against Casey at GMHBA Stadium on Saturday afternoon.

Multiple injuries early in the game failed to deter the home side, as the Cats recorded an 8.8 (56) to 4.3 (27) victory.

Geelong was quick to gain control of the match, as Ruby Benham kicked two goals in swift succession to give her side the lead. The Cats' impressive pressure and running was further rewarded with a goal to Danielle Orr, opening up a 12 point lead at quarter time.

The Cats were forced to play with a depleted bench for most of the game, as Denby Taylor and Georgia Clarke were both ruled out with concussion and Krista Woodroffe failed to return to the field due to a knee injury.

Unselfish play across the ground saw Geelong continue to grow in confidence and composure. Danielle Orr proved to be dangerous in the forward line, kicking three goals in her return from injury in an impressive display.

Two goals in a minute in the final quarter to Rocky Cranston and Julia Crockett-Grills sealed Geelong's 29 point victory, as the Cats celebrated their second win of the season.
That winning feeling! #HerStoryOurFuture #WeAreGeelong pic.twitter.com/Aub6QkDExg

— Geelong Cats Womens (@catswomens) June 22, 2019
 
The convincing win was reward for effort and hard work according to VFLW coach Natalie Wood.

"It's a great reward for the girls' effort," she said.

"We haven't strayed from what we've been trying to achieve by focusing on our fundamentals and our positioning on the ground, so it's just a great reward for the girls that they've been working at improving that.

"For them to get passages in the game where they were able to really move it on their terms was really good."

Wood praised her side's composure despite being faced with injuries.

"We were down three rotations for almost three quarters, so to have two on the bench with a young group who have been trying to gel, their resilience to that was impressive," she said.

"They didn't go into their shells, they stood up to the challenge, they embraced that challenge and I think it made them walk a little bit taller.

"So when you've got a young group and you're developing and evolving, when they show that character and resilience it's just fantastic."

The inclusions of experienced AFLW players Renee Garing and Danielle Orr helped guide the Cats to victory.

"Dani got on the end of three goals which was just fantastic, and what Dani and Renee both brought was that leadership as well as their competitiveness," Wood said.

"Dani's a strong player in the front half of the ground and can be really dangerous with the ball in her hand, and Renee's an endurance and a strong power athlete, so it was pivotal in leading the way that we put pressure around the ball. It was fantastic to have them both out there."

Wood was pleased with the way her whole team adapted to their roles on the ground.

"There were some standout players for some different reasons. When we lost three players so quickly we needed to be creative with who we put where, so we moved Maddy Keryk without notice to go and play as a defender, and I thought the way she embraced that was outstanding," she said.

"The mids, in order for them to get a little bit of a rest one of them had to go deep forward, and the way that they were able to orchestrate that and communicate themselves to enable that rest was really good.

"It was a real team effort today, and a lot of people ended up in positions that we hadn't planned for. We were definitely thrown some curveballs and it was outstanding the way the playing group responded."

The Cats will look to continue their winning ways against Carlton next Saturday at Ikon Park.


VFL Women's Round Seven
Geelong Cats 8.8 (56) defeated Casey Demons 4.3 (27)
Goals: Orr 3, Benham 2, Crockett-Grills, Cranston, Van de Heuvel
Best: Keryk, Crockett-Grills, Van de Heuvel, McDonald, Orr, Garing
Injuries: Taylor (Concussion), Clarke (Concussion), Woodroffe (Knee)
Reports: Nil
@ GMHBA Stadium
The views in this article are those of the author and not necessarily those of the AFL or its clubs