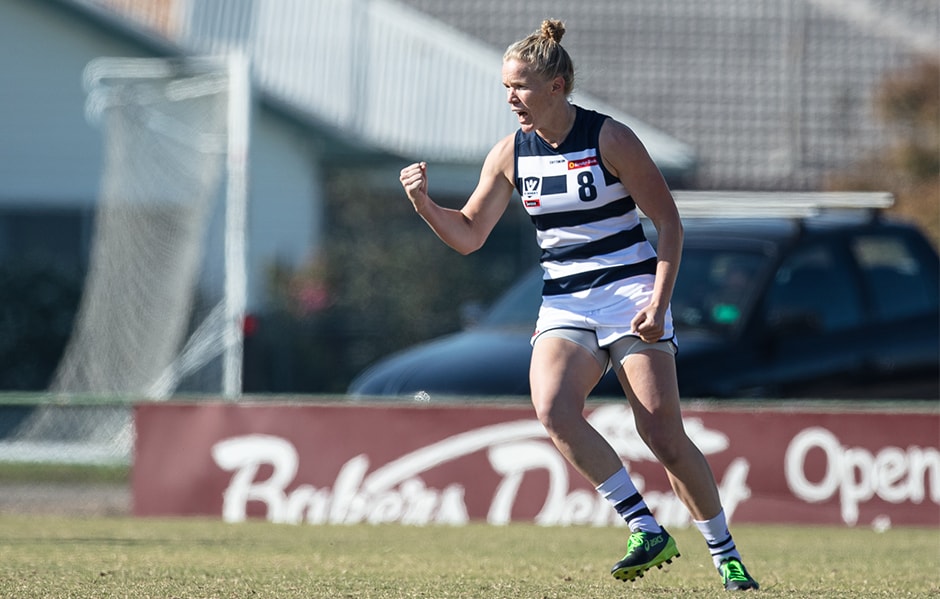 Geelong's VFLW side has won its first game of the season, defeating Essendon 7.2 (44) to 5.9 (39) in Colac on Saturday afternoon.

The Cats started the match in impressive fashion as Kate Darby booted three goals in the opening 10 minutes, with strong defensive pressure across the ground containing Essendon to just two points at quarter time.

Geelong's dominance continued early in the second quarter, with two quick goals to Ruby Benham and Jordan Ivey opening up a 27 point lead. The Bombers refused to relent however and kicked the next two goals of the game as they began to make the most of their opportunities in the forward line.

A contested mark in front of goals early in the third term saw Darby boot her fourth goal of the day and the Cats extended their margin once again. It was a tightly contested quarter with both sides kicking two goals apiece, and Geelong held on to a two goal lead at three-quarter time.

Essendon kicked a goal halfway through the final quarter to narrow Geelong's lead to just five points. The classy Cats showed their composure however, with Maddie Boyd taking crucial contested marks in the final minutes of the game which helped to guide her team to a thrilling win.

Geelong VFLW coach Natalie Wood praised her side's performance in the physical contest.

"It was nice to get our first win. We always knew it was going to be a close game, we had the opportunity to look at Essendon's game last week and they're a really fast, physical team," she said.

"They're really hard at the contest so we knew it was always going to be a battle and we were fortunate to get three goals in the first quarter quickly.

"We always knew Essendon were going to come back and be physical and put a lot of pressure around the ball which they did. Then it became a bit of an arm wrestle in five minute bursts for both sides."

There were standout players across the ground that helped the Cats secure their first victory for 2019.
"At different times of the game I think most of our players were able to have a really good impact on the ground," Wood said.

"Early in the game when the ball went forward Kate Darby was being really productive with her movement, which was coming off the back of some really good midfield work from Jordan Ivey.

"Then late in the game Maddie Boyd was just outstanding with some really strong contested marks which allowed us to win the ball back and then play on our terms."

Wood was also impressed Rene Caris' performance, as the young AFLW listed ruck dominated in her role for much of the day.

"I think Rene played one of the best games I've ever seen her play. Not only in her ruck work but her work around the ground, getting in really good positions behind the ball, going into the contest for marks and making some spoils at times as well."

The VFLW Cats face Collingwood next, and will look to continue to develop their playing style in the lead up to their round three clash.

"For us a key thing at the moment is being able to play our style for longer," Wood said.

"Today I think we were able to execute what we wanted for longer than we did last week, but now our challenge is being able to do that next week for even longer and trying to negate the opposition's strengths."

Geelong will play Collingwood at GMHBA Stadium in a double-header with the VFL next Saturday.


VFL Women's Round 2
Geelong Cats 7.2 (44) defeated Essendon 5.9 (39)
Goals: Darby 4, Benham, Blakeway, Ivey
Best: Ivey, Caris, Boyd, Goring, Blakeway, Keryk
Injuries: Nil
Reports: Nil
@ Central Reserve, Colac


The views in this article are those of the author and not necessarily those of the AFL or its clubs