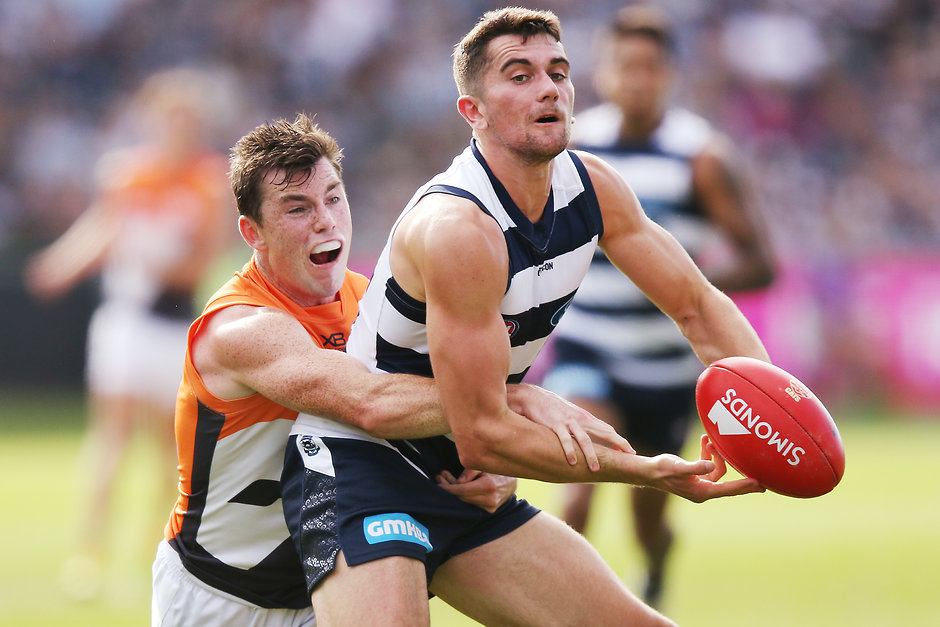 EMERGING Cats defender Mark O'Connor has recalled his baptism of fire in the world of Australian Football.
The Irish export told the Geelong Advertiser he knew he was outside of his comfort zone after two particular incidents involving Matthew Scarlett and Harry Taylor.
Scarlett set O'Connor on edge when the Irish Cat first took to the GMHBA Stadium turf for some skills training alongside coaches Scarlett and Paul Hood.
Scarlett recounted his treatment of Gaelic footballer Dessie Dolan during an International Rules series as a means of introduction to the young Cat.
"He (Dolan) was a pretty good Gaelic footballer back home," O'Connor said.
"(Scarlett) turned to me and said: 'well, I broke his nose'.
"I just looked at him … then I went and read about it and looked at the footage and he just punched Dessie Dolan on the nose. I was afraid of Scarlo after that."
O'Connor's first training session was just as unnerving, with the Kerry product on the receiving end of a trademark Harry Taylor hit.
"I remember my first training session and I got the footy — there's more time in Gaelic footy with the ball — and I held it for a second too long and Harry Taylor came in from the blindside and steamrolled me. It was a rude awakening," O'Connor said.
"But I was trying to find my feet, improve as quick as possible and trying to impress.
I missed a lot of kicks, it was the seriously frustrating part. -Mark O'Connor
"That was part of the doubt, wondering if I would ever be as comfortable playing AFL as Gaelic football? But that doubt goes away."
Despite the tough initiation, O'Connor has stuck around and found his feet in Geelong. The club had a unique feel to it.
"There was something special when I came down to Geelong," O'Connor said.
"I remember the drive, Kevin Sheehan drove me down. I met some of the people at the club and I knew there was something very special about the place.
"It was under construction at the time, it was a building site. I remember seeing Rhys Stanley in a little hall doing shoulder rehab and it was really old-school. But everyone seemed so happy and it was a special environment."
Despite a strong 'tribal' connection to his Gaelic club back home, O'Connor realised Geelong offered an opportunity he couldn't find elsewhere.
Battling through injury concerns, O'Connor knew a move to Australia could set him back on the right track to health.
"I saw the facilities and how things work over here with the structure and lifestyle. I recognised I could be far better physically and learn so much more about my body," he said.
"My knees — I had bad tendinitis coming over here — and I was confident the physios over here could sort me out pretty quickly and get my body back in shape, which was very exciting for me."
"I hadn't kicked a footy much at all. It was unknown territory for me," he said.
O'Connor has now played in the Cats' last eight games, playing in all encounters to start the year after finishing last season with four consecutive matches including the elimination final loss to Melbourne.
The Irish Cat looks to be growing in confidence as he finds his place amongst the tight-knit Geelong defence known as the Misfits.

He now rallies behind the man who set him on edge as he came to the club.

"We're all very close, the Misfits," O'Connor said.
"Scarlo leads the way, he is kind of our leader. We have built a very strong bond over the pre-season and over the past couple of years."
The views in this article are those of the author and not necessarily those of the AFL or its clubs