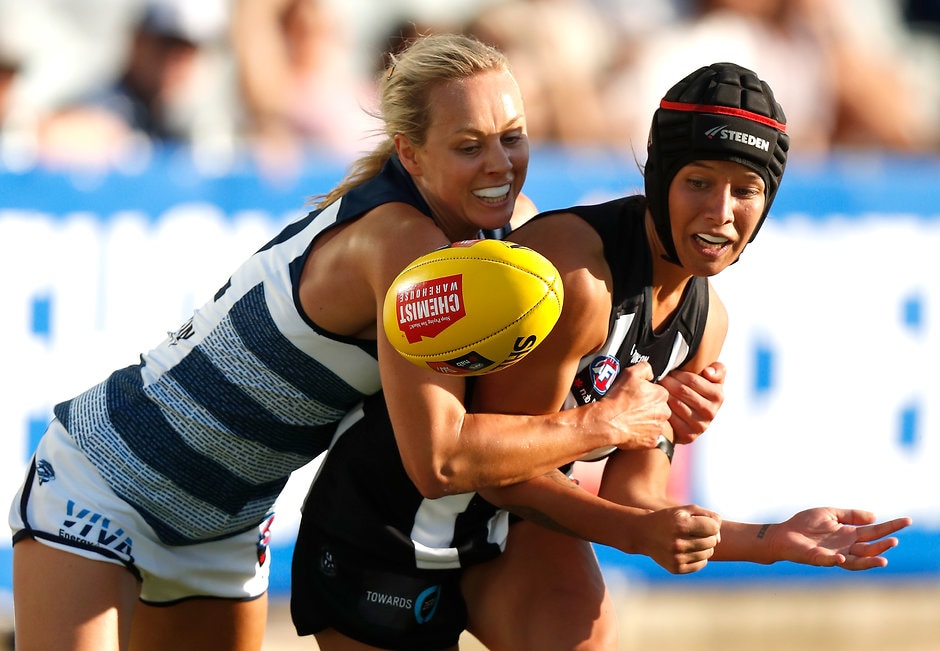 Round 6
Geelong Cats v Fremantle Dockers
Saturday March 9, 2.35pm

The Cats need one more win to cement their place in this year's finals series. They sit on top of Conference B and will be looking to capitalise on their home ground advantage, given this is their last game at Kardinia Park for the season. They enter the game on a high after an exceptional win over Brisbane in Moreton Bay last weekend where they kept the Lions to the lowest ever score in AFLW history.

The Dockers need to win to keep in touch with Conference A ladder leaders North Melbourne and Adelaide. Fremantle look like a new side this season under coach Trent Cooper. Marquee signing Kiara Bowers has had an outstanding return to football after missing the first two seasons with ACL injuries. The midfielder averages 17-disposals a game and last week had a career high 23-disposals against the Western Bulldogs.


Three Talking Points

How much will Fremantle's forward line miss Kellie Gibson?

Gibson is Fremantle's leading goal kicker this season and played a pivotal role in her side's victory last weekend against the Bulldogs. Gibson kicked three last week and was assisted by fellow forwards Gemma Houghton and Sabreena Duffy who both kicked two. Gibson was ruled out of this weekend's game with concussion. How will Duffy and Houghton function without Gibson by their side?


Darby has her helpers back

Tall forward Kate Darby stood up for the Cats when they needed her last weekend. With Maddie Boyd out on suspension and Phoebe McWilliams missing a half with dislocated fingers, Darby was the sole tall target up forward and did a excellent job. This weekend she will have her two tall friends back with her in the forward line. How will Fremantle match up on the Cats height in the forward half?


Renee Garing v Kiara Bowers?

Kiara Bowers has the nickname "Turbo" because she has one of the largest aerobic tanks in AFLW. Renee Garing is a fitness machine who loves to run and tackle. With these two midfielders, both of who are in outstanding form, line up on one another this weekend? If so who can run the furthest and who will lay the most tackles?
The views in this article are those of the author and not necessarily those of the AFL or its clubs