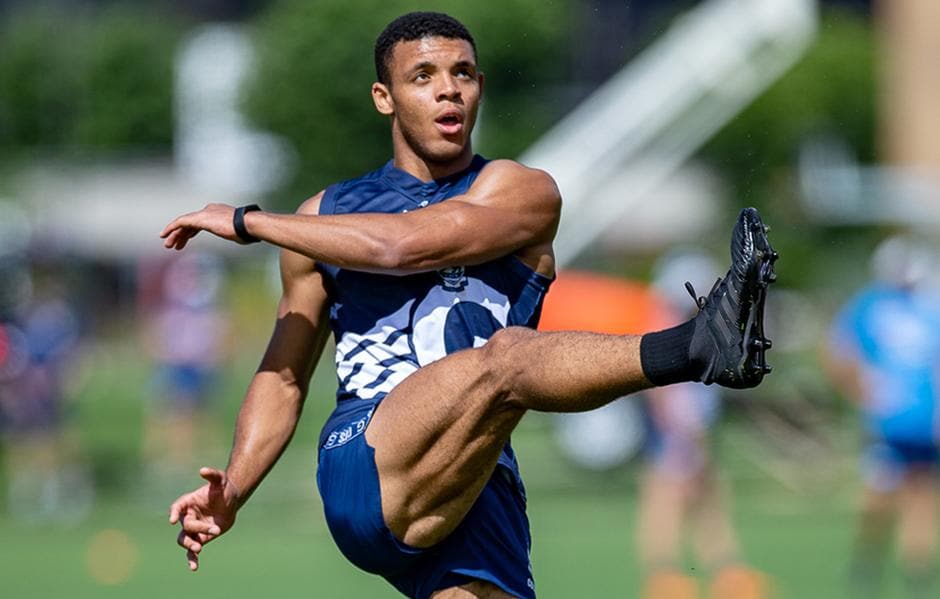 Stefan Okunbor tapped 'AFL's biggest hits' into Youtube and liked what he saw.
Former Sydney Swan Tommy Walsh had just paid a visit to the then Irish student's high school, and for Okunbor it opened a whole new world of opportunity.
The raw aggression in that YouTube clip stood out, and he wanted to get involved.
"The boys, they weren't holding back, it was lawless and they were going straight at it, going for each other," Okunbor says.
"Ever since then it's been in the back of my mind."
Born in Moldova to a Moldovan mother and Nigerian father, Stefan and his family moved to Ireland when he was three-years-old in search of a better life.
He picked up a Gaelic football to integrate with his peers, 'the size five O'Neills' to be exact, and quickly excelled at the sport.
It was when playing Gaelic football that he was spotted by another Sydney Swan.
"Tadhg Kennelly was the one that discovered a few of the Irish boys. There's a few scouts in Ireland watching our games and whatnot and I got a text to go to the Dublin AFL combine."
"I did well and I went to Florida for the NAB camp, I didn't get drafted that year and I went back and played football for another year back home."
"Things went well for me and Geelong got onto me."
Now Okunbor has made the move once more, arriving in Australia to try his luck as a Category B rookie at the Cats.
One look at the now 20-year-old shows an AFL ready body, one that lends itself to those big hits he watched on YouTube back in Ireland.
It's an aspect of the game he relishes.
"I like the physical aspect of football, I have to work on my skills a fair bit so for now all I have is my physicality," he says.
"The tackling has been pretty challenging because I just want to let loose and try to grab them, I'm getting caught with a few high tackles at training and the boys aren't too happy so I've got to get that right."
Like the tackling, adjusting to a whole new set of rules has also raised some challenges.
"There have been a few moments," he says.
"I try and catch the mark and I keep forgetting that you stop and take your 15 meters or whatnot. I just run, run and the boys are screaming at me to slow down, I have to get my head around that."
The work ahead doesn't faze Okunbor however, the opportunity to be a full-time athlete is a prospect that excites him.
"I'm playing because I just love playing sports, I wouldn't say it's the crowds that drove me to continue playing AFL football, it's an opportunity that most boys would take and I just took it.
"It's just getting up, you're not walking into an office, you're walking onto a training ground with the rest of the boys and you're all in the same boat and it's amazing. It's a great feeling.
The views in this article are those of the author and not necessarily those of the AFL or its clubs