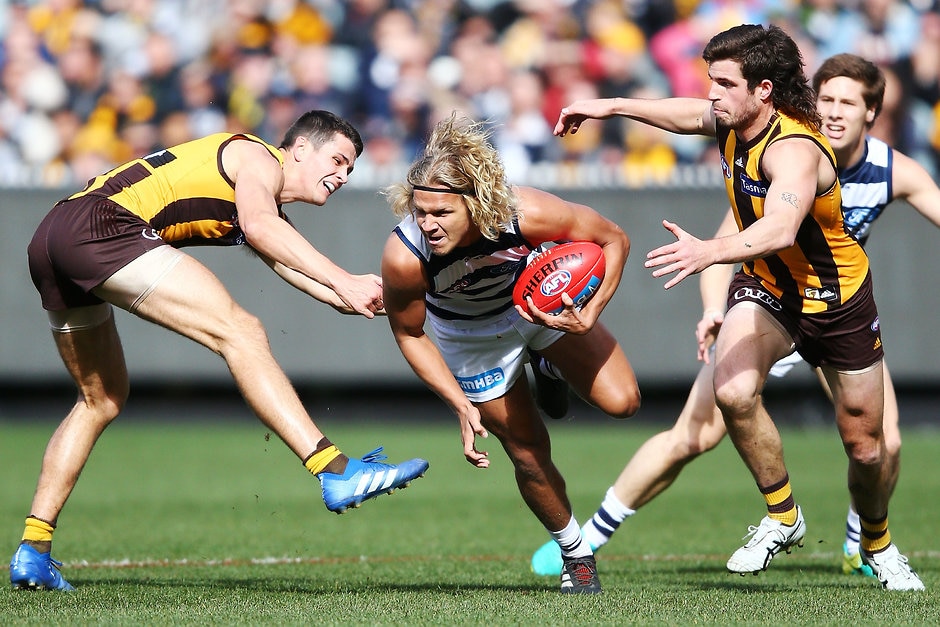 GEELONG is set to call on its explosive inside players to take advantage of AFL rule tweaks and trap the ball inside its forward half.
Midfielder Mitch Duncan says the introduction of six-man forward lines at the bounce will make 'go-forward' players all the more important.
"If you can win it out of the middle you can set up the ground and play the game in your half," Duncan says.
We've got to make it our strength that's for sure. - Duncan on winning clearances
"I think we've got some really powerful personnel. Paddy (Dangerfield) is a great example, Quinton Narkle when he's around the footy is really powerful and a go-forward player. You get them around the ball and they can give you the first look. I think that can be really important."
Winning crucial, forward-half contests will also be high on the agenda for the Cats, with Gary Ablett set to be an important piece in a new-look forward group.
"He (Ablett) has spent a lot more time down forward learning his forward craft and I think he's going to be really dangerous down there," Duncan says.
"He's going good. He hasn't missed a session, his body is feeling good and (he has) no injuries.
Duncan believes Ablett will help the Cats execute on its emphasis in locking the ball into the forward half.
The 34-year-old Cat finished seventh at the club for tackles per game last year, despite attracting intense focus on his efforts.
"If you go and look at the numbers, his numbers aren't that bad when it comes to tackles," Duncan says.
"Maybe it was just a team thing that we weren't tackling as good and a few people got brought up.
"His footwork is as good as any once he gets the ball (and) he's going to lay a few tackles down there."
The views in this article are those of the author and not necessarily those of the AFL or its clubs