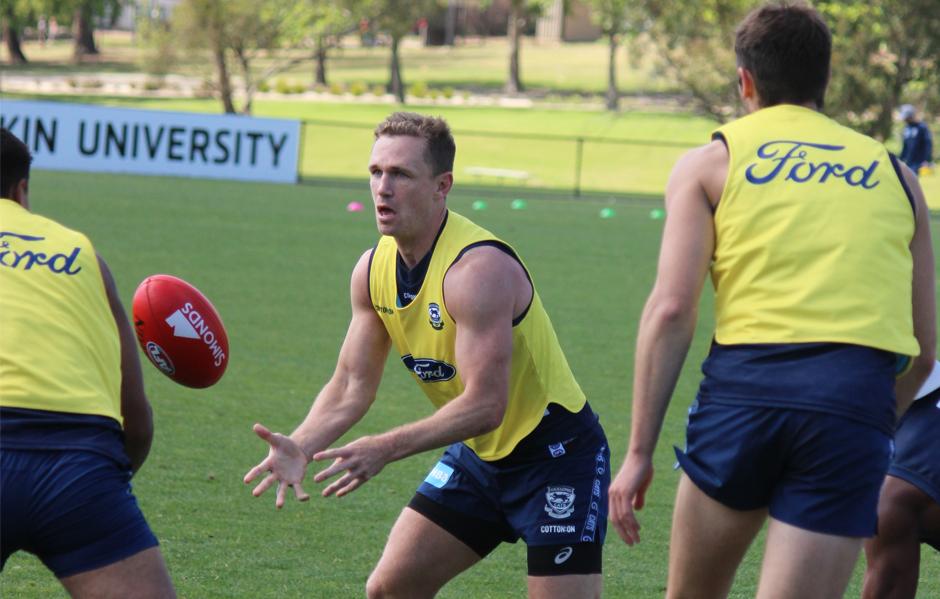 GEELONG captain Joel Selwood is easing himself into pre-season number 13 as the Cats take a slow and steady approach with their 30-year-old skipper.
Selwood told the Geelong Advertiser he is managing his workloads and completing a modified program with an eye on hitting round one with a full head of steam.
"With the bash and crash for 270-odd games, I just have to make sure I do look after the body for a period where I can and then make sure I go into the season ready to go," Selwood says.
"It is pretty similar to what I have done a little bit, but it (the modified program) is probably a little more to protect myself at this time of year."
The durable star hasn't played less than 20 games during any of his 12 AFL seasons and knows the importance of heading into the season feeling good.
"I'm not going full steam ahead with the first couple of sessions back, and that was similar to the start of pre-season, but then at the end of the December period I was nearly back within all of the main training," he says.
"January will be a little bit similar to that, we have got three-and-a-half weeks before our next little break so it will be mainly building up and making sure I am going full steam by the end of it rather than three-and-a-half weeks straight.
It is more to look after myself. After thirteen pre-seasons you don't have to do the full extent of pre-season as someone just coming in who has to build their body up. - Joel Selwood
Selwood is looking forward to getting back out on the park and the opportunity to improve on last year's finish.
"Every player takes it differently but as a group we walked way not satisfied with when we finished last year," Selwood said.
"But we know now that we can't do anything about what has been done, so it is about picking ourselves up, and as a Geelong supporter sitting back like I am at heart, we were disappointed with the way we finished.
"So we have to pick ourselves up, dust ourselves off and we can talk all we want and you guys can write all you want, but we just have to get to work and get better."
The views in this article are those of the author and not necessarily those of the AFL or its clubs