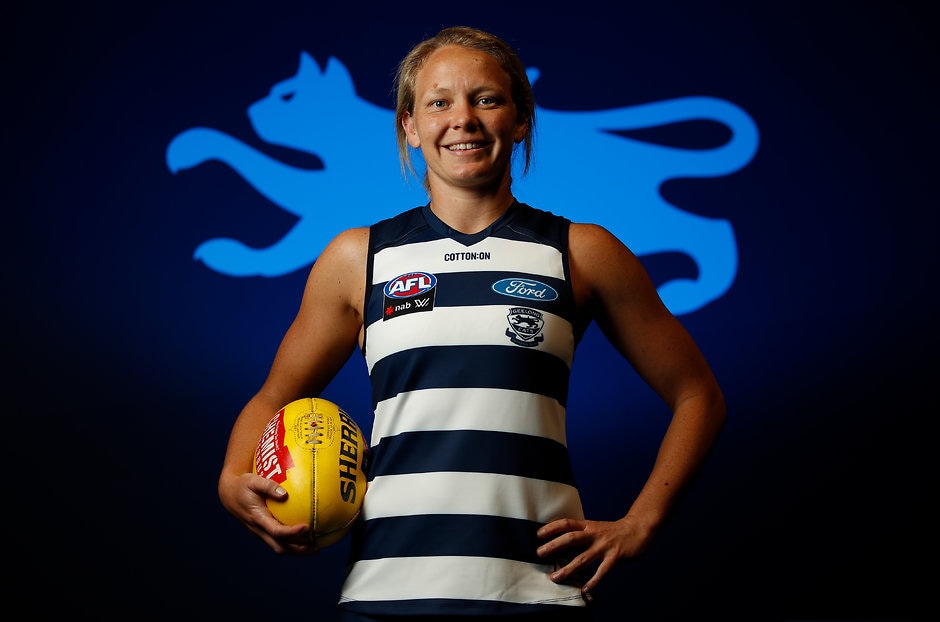 Never has a warm up been so quiet.

The playing group was in the main warm up area at GMHBA Stadium on Tuesday night and it was so quiet you could have heard a mouse. In fact, if a mouse ran through the room of cats, I don't think anyone would have noticed.

That is the affect a two kilometre time trial can have on a team. Everyone obviously wants to do their best and knowing you have approximately eight minutes of hurt ahead of you is not a great feeling.

When arriving at Deakin I thought I would ask running champion Renee Garing for some tips. I'm definitely not the fastest going around, so I thought I would get some advice from the expert.

"Breathe through your nose. Don't go out too hard. Push the last lap."

I can confirm these tips only help if you're a good runner.

The group set a blistering pace. At the start I thought to myself, "there's no way they can hold this pace for the whole two kilometres." Well they did and it was not enjoyable.

Before the race I made a bet with Olivia Purcell to see who she thought would win. Liv backed Nina Morrison and I went with my running coach Renee, with the winner getting a block of dark chocolate. It was a tight race with Renee just edging out Nina by one second! I'm still waiting on my block of chocolate, Liv.

On Wednesday we had a complete change of pace with our official team photos taking place. Anna Teague got the hairspray out, Maddie Boyd cracked a brand new pair of boots and a few players looked slightly more tanned than they did the day before.

It was our first opportunity to see one another in our full playing kits and wearing our new numbers. There was a buzz around the room. We each had a portrait photo, a 3D photo and our team photo.

After the official team photo there was an opportunity for special guests to jump in for a photo with the group. We had representatives from our major sponsors, the club's directors and some of our young Cats fans. It was great to meet some of our major supporters face-to-face.

Thursday was our final training for the year and it was filled with Christmas spirit. Our gym warm up included Merry Bands, Jingle Bell RDLs, Sleigh Boards and Prancing (some of Mon's finest work). Our gym session was dress up Christmas themed. Best dressed went to Maddy McMahon as Mrs Claus, Elise Coventry and Anna Teague in their Christmas dresses and Rene Caris who completed her entire strength session in a full Santa suit.

Our final activity for the year was a Christmas dinner in the Player's Lounge. AFLW/VFLW operations and recruiting manager Ben Waller dressed up as Father Christmas and handed out the team's Kris Kringle presents. It was a great way to end our first five weeks together.

Merry Christmas to all our Cats fans. I hope you have a great break with family and friends. When the team comes together in the new year there will only be 28 days until our opening game. What an exciting thought. I'd better go easy on the Christmas pudding.
The views in this article are those of the author and not necessarily those of the AFL or its clubs