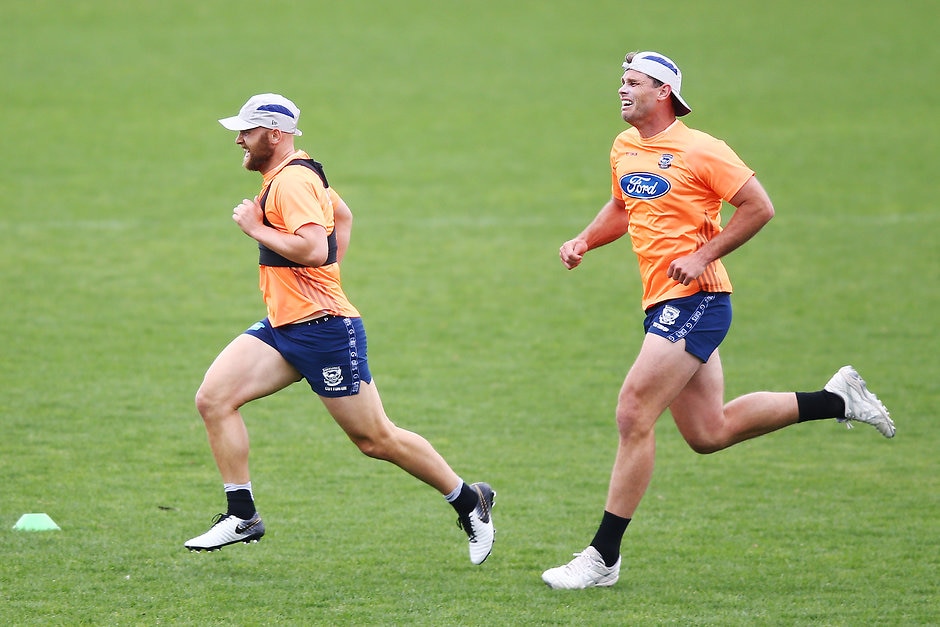 We want him in the play as much as he can be.
Nigel Lappin on Tom Hawkins
FANS can expect to see plenty more of Tom Hawkins roaming all over GMHBA Stadium after the big Cat took his game to another level pushing up the ground in 2018.
The 30-year-old Cat averaged career highs in goals, disposals, goal assists and marks last season and assistant coach Nigel Lappin says the more time Hawkins spends with and around the ball, the better it is for the team.
"We'd like him to continue getting up the ground because Hawk plays really well in between layers," Lappin says.
"He reads the game really well and he's really good when he has 360 degrees to work in rather than just leading up at the footy, even though he does that really well.
"He's a really smart player Tom so if we could have a target forward that can just be there whenever we need to bail out, it allows him just the freedom to roam and back his instincts which are very good.
"He's a really good ball-user, he's good in a contest and he's good when the ball spills in his area at ground level as well, so we want him in the play as much as he can be."
With the arrival of a host of new forwards at the Cattery over the break, Hawkins is keen to use his pre-season to develop much-needed understanding with the Cats' new-look group.
The arrival of Luke Dahlhaus and Gary Rohan means a stylistic change is on the Cards for the Cats as the front six ramps up the pressure in the forward half.
"We've got two new players that we're going to see a fair bit of down in our forward line. I'm working pretty closely with them trying to create a bit of chemistry," Hawkins says.

"I feel like Gary and Luke will play a fair bit in our side so I'm looking forward to that.
"The way that the rules have changed a little bit means that we're going to have some different faces, there will be a lot of different people down in our forward line this year coming."
Hawkins is now entering his thirteenth season at the club and understands he will have a big impact on how the new group comes together.
"Leadership is just a part of my role that I need to provide for our team," he says.
"I've been a part of the leadership group and I feel like I've been I've been a mainstay down in our forward line for six or seven years now."
The views in this article are those of the author and not necessarily those of the AFL or its clubs