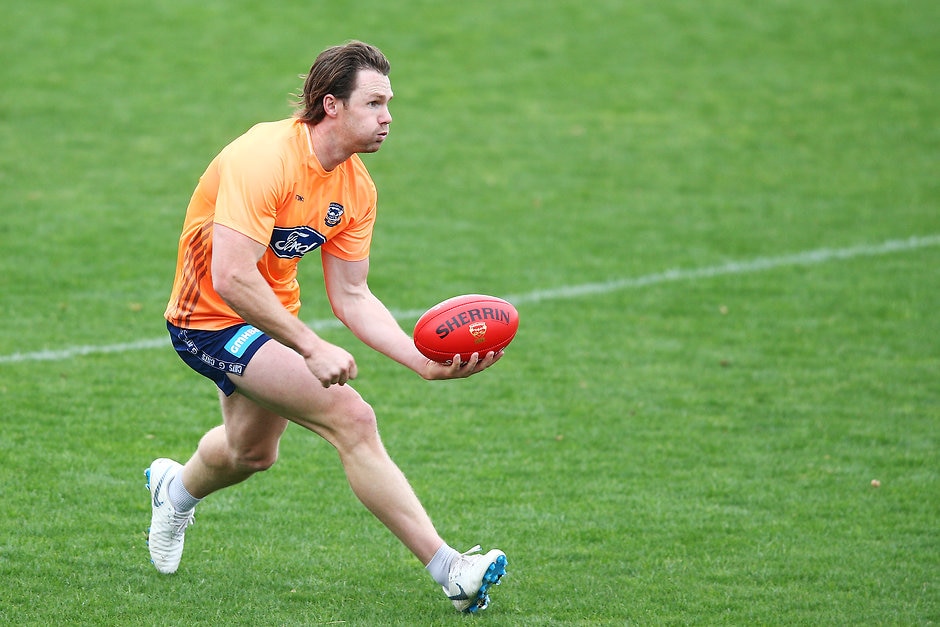 I think Pat is pretty keen to establish himself as the competition's best midfielder again this year...
Nigel Lappin on Patrick Dangerfield
A 'lighter' Patrick Dangerfield has honed-in on improving his outside game to complement his bullocking inside strength, and once again establish himself as the game's pre-eminent midfielder.
Assistant coach Nigel Lappin says the explosive Cat has been turning heads on the track after overcoming niggling injuries that troubled him early last year.
"Pat has had an amazing pre-season so far," Lappin says.
"He has been really diligent in the off-season and got his weight down – he wanted to play a little bit lighter this year and he's been able to do that.
"As a consequence, he has trained hard and he's running really well in training drills. He's been spending a bit of time on the outside just working on his running patterns away from contests.
"We all know how dynamic and brilliant he is in the contest. He wants to improve the outside part of the game which will only help his strengths be greater strengths."
Dangerfield is likely to spend more time playing through the middle in 2019 after pinch-hitting up forward for lengthy periods at times last year.
"I think Pat is pretty keen to establish himself as the competition's best midfielder again this year, so you'll see him spend most of his time there," Lappin says.
"It (Dangerfield's increased time up forward) was a little bit out of necessity, particularly when Esava (Ratugolea) went down. Esava was having a really good impact for us as a key forward and when we lost him we needed another target.
"When we need him forward it is nice to have a guy that can go down there and have an impact like he can so he's doing a fair bit of work on both parts of his game."
Dangerfield is upbeat after casting aside back and hamstring issues that plagued him at the same time last year.
"I've always just been under the philosophy that you've just got to make sure you bank as many sessions as possible. The past season that was my biggest challenge with my back unfortunately," Dangerfield say.
"Every session you don't do is one that your opponent gets up on you. You've got to make sure you're training your body and mind to be able to grind when you're not feeling great.
"This is where you set up your season and I'm a firm believer of that. It's been the case since I started, you just can't cheat this time of year because you can't get it back in February and March."
The views in this article are those of the author and not necessarily those of the AFL or its clubs