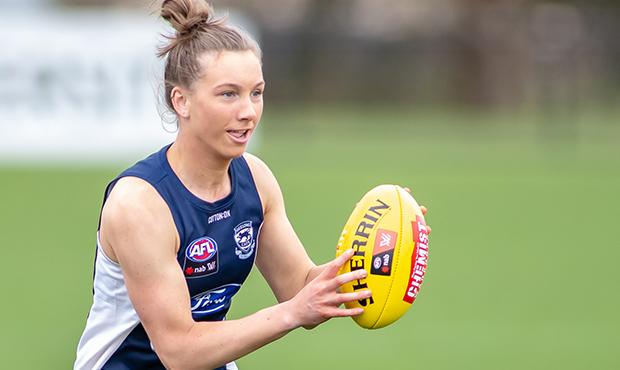 Senior players bring experience and leadership. But younger players provide energy, enthusiasm and excitement, which I believe is just as important.
Phoebe McWilliams
Be careful what you wish for!
After complaining in last week's diary about Geelong's cloudy skies and rain we have since had two scorchers on the track. On Saturday we ran around in stunning 28-degree weather. Thursday night's session was slightly less pleasant with the thermostat topping a throat burning 37-degrees.
These conditions are beneficial for the group as it helps us adjust to what it's like playing in the heat. Obviously AFLW is played over summer, so warm weather is part and parcel of the competition. Melissa Hickey reminded us of this when we were warming up in the 37-degree heat - training in these conditions is good for building resilience - and so the group got on with business without any complaints.
Our Saturday morning trainings are our biggest "football" session for the week. It's probably my favourite as drills are designed to simulate match play. It gives us an opportunity to do what we love most - play footy - and even though we are all on the same team, it's a chance to get a bit competitive. It was our biggest session to date in terms of kilometres with a huge conditioning block at the end of training - thanks, Mon!
At Tuesday's training, in the midst of a drill, one of my new teammates, Sophie Van De Heuvel, told me that it is her birthday next Monday. She mentioned she is turning 18 and I couldn't believe it.
Soph has the composure of someone who has been playing the game for years and in the past few weeks has become one of my favourite teammates to work with. To think she is only 17! It made me realise what a young squad we have with eight players under the age of 20.
Often people speak of the importance of senior players at a club. Senior players bring experience and leadership. But younger players provide energy, enthusiasm and excitement, which I believe is just as important.
I love Nina Morrisons' work rate, Soph's ability to cut through defenders and Georgia Clarke's transition from defence to attack is super. Denby Taylor's ground ball gets are some of the best I've seen and Liv Purcell always seems to find herself in the right position.
They're also good to have a laugh with. It's fun giving them a hard time about being on their P-plates or joking about school. Then I tell them about what we used to do back in the 90s and they give me a hard time about nearly being double their age. That's one of the best things about football, it brings all different types together.
This week we also had a visit from the AFL. Head of women's football Nicole Livingstone and umpire Michael Jenningscame out to run us through some exciting changes for the upcoming season. Nicole gave us a sneak peek into the league's new advertising campaign. They've come up with a great new concept that encapsulates AFLW - keep an eye out for it! Then Michael ran us through the rule changes for 3.0 and provided us with some examples.
It's been another big week for the group, but it feels like it's coming together. The bodies have adjusted to the workload and the game plan is coming into place. Looking forward to more scorchers on the track.
The views in this article are those of the author and not necessarily those of the AFL or its clubs