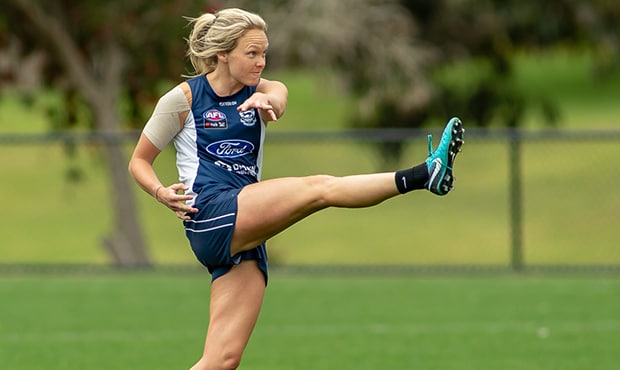 My first trip down the Princes Freeway to GMHBA Stadium earlier this year was full of grey skies and rain.

It was a miserable May morning and coach Paul Hood assured me that this type of weather in Geelong was rare. Well Hoody, I'm still waiting to see the blue skies and sunshine you promised me!

Unfortunately the same gloomy conditions were present last Saturday at our open training session. Despite this, there were still plenty of Cats women's fans out at Deakin University cheering us on from the sideline.

The majority of these fans were young girls and their mums wearing either Cats colours or their own sporting club's jerseys. Meeting these girls, giving them high-fives and chatting footy was an absolute highlight.

The open training session was just the beginning of what was to be a jam-packed weekend of activities for our squad. Cats AFLW staff had come up with a team bonding camp, which went all day Saturday and part of Sunday morning.

It was a huge 24-hours where we completed a problem solving adventure course, did our recovery at Anglesea beach, competed in a cooking competition and most importantly we came together to define our team values and goals.

Some highlights of the weekend included Maddy McMahon's avocado chocolate mousse (I'm not sure who came up with that recipe, but it should not be repeated!), Renee Garing and Danielle Orr's excellent raft making skills and Jules' wholemeal/burnt tacos.

Team bonding is vital in setting up a team's culture. For me, it seemed like the camp couldn't have gone any better. Everyone worked together, got to know new members of the group and set up some important foundations that we will draw upon for the rest of the season. It was the perfect way to end our first week together.

From the highs of the weekend, we were quickly brought back down to Earth at our next training session on Tuesday night. Mon Kelly our strength and conditioning coach had arranged for us to complete our fitness testing. Unlike other clubs I've played at, our running capabilities weren't tested by a 2km time trial. Instead we completed a 1.2km shuttle run. As expected our best runners, Renee Garing and Nina Morrison absolutely smashed it. I was happy to finish.

Our Thursday night session we focussed on offence. Conveniently it was our offensive coaches' birthday so at the end of the session we all sang Blacky (former AFL player Aaron Black) happy birthday.

There are a few sore bodies this week, but that hasn't dampened anyone's attitude. Can't wait for week three.
The views in this article are those of the author and not necessarily those of the AFL or its clubs