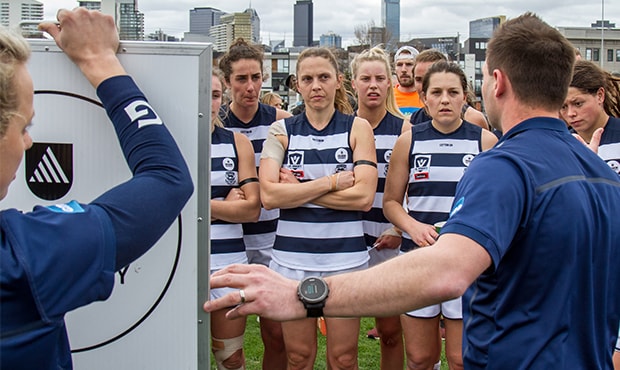 Geelong's AFLW team are preparing for a strong pre-season ahead of their inaugural season which kicks off in February.

Women's Strength and Conditioning Manager Monica Kelly has highlighted that with many players from different clubs, one of the group's focuses will be on cohesion on and off the field.

"The preseason to us is very much about bringing all our players together forming team cohesion on the track and really just cracking into it."

"We will have a real focus on bringing the team together," She said.

A solid performance throughout this year's VFLW season will look to provide an advantage to the side in helping fasten the team's preparations. Of the 30 listed AFLW players 20 are transitioning in the hoops from VFLW to AFLW, including three TAC Cup players.

"It's going to be an advantage, but at the same time we know we're playing in the AFLW competition which is a new challenge for us, so a lot of our training will hopefully take things to another level," said Ben Waller, the club's AFLW Operations Manager.

Due to the concerning rise of women's susceptibility to AFL related injuries, injury prevention will also be a key focus for the club as they prepare the side for the inaugural season.

"We have a very well rounded approach, not aimed at one specific thing or injury, we're trying to prepare our girls for everything that will be thrown at them," Kelly said.

To support prevention the exceptional facilities at GMHBA Stadium will be in full use over the preseason; however the high demand of the stadium means the side will be spending time at Deakin's precinct in Waurn Ponds.

"We're very fortunate to have access to the Deakin University's Elite Sports Precinct, which obviously includes the MCG sized oval and athletics track which is a fantastic set-up," Waller said.

The variance and strength of the players in the side will also be a big factor in the team's success in their first season in the league.

"We've brought in some very experienced players, some players that have had very good VFLW seasons as-well as some young talent," Waller said.

"We're really confident we can be competitive in the AFLW season, and confident we'll be ready when round one rolls around."

The Geelong Cats are also scanning the Geelong region for the upcoming Talent ID Day at Deakin University's Elite Sports Precinct in the upcoming weeks. Click here to find out more.
The views in this article are those of the author and not necessarily those of the AFL or its clubs