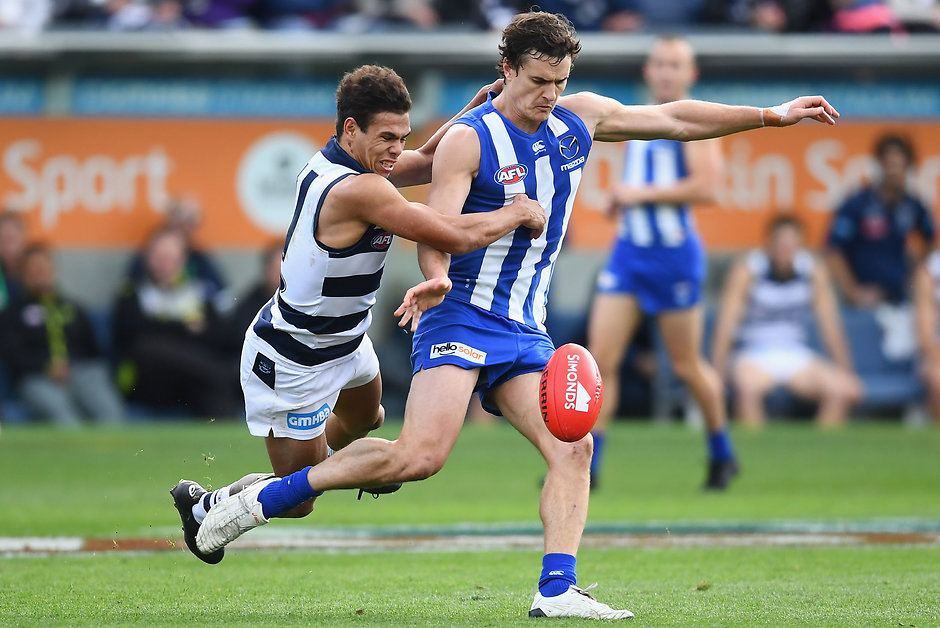 Our coaches' reviews continue as we take a look at some more second year Cats.

Ryan Abbott
Abbott jumped ahead of Zac Smith in the ruck pecking order this year and cracked into the side to make his AFL Debut. He showed an ability to hit the scoreboard with two goals in his first game and generated some rival interest in quick time.
Abbott performed strongly against Max Gawn in the Cats' elimination final.
The former basketballer and mature-age pickup shared the ruck duties with Smith for most of the year in the VFL, and impressed with his tap work and ability to hit the scoreboard.
Stats
Games Played – 4
Goals – 3
Disposals (Avg) – 10.75
Hit-outs (Avg) – 27.25
Tackles (Avg) – 5.75
Standout Game
Round 20 vs Richmond – 10 disposals, two goals, seven tackles, 27 hit-outs
Coaches Comments (James Rahilly):
"He had a very consistent year and had to be very patient to get his chance and it obviously came. It was a testament to him to play finals football.
"He worked very hard on his ruck craft and went down forward and was quite dangerous in the VFL as well and added a few strings to his bow.
"He competed really well against one of the best ruckmen in the AFL (in Gawn). We're very pleased with his development."
Jamaine Jones
Jones was another Cat to break into the side in 2018 and managed seven games in his second year at the club.
The small forward showcased what he can be as a player with a ferocious tackling effort against the Swans in Sydney. Jones tackled 11 times as Geelong piled on the pressure to win away from home in a crucial victory for the club's finals equation.
The energetic forward needs to find a way to bottle that pressure he brought against the Swans.
Stats
Games Played – 7
Goals – 4
Disposals (Avg) – 8.57
Tackles (Avg) – 3.71
Standout Game
Round 16 vs Sydney – 10 disposals, 11 tackles
Coaches Comments (Shane O'Bree):
"JJ to his credit worked really hard on the pressure side of his game. He got an AFL opportunity and we were really pumped for JJ with his story.
"He looked comfortable at AFL level. His pressure is good but I think it could go to another level where he impacts all the time. His confidence and potency with ball in hand will improve with a focus on this over Summer."
Sam Simpson
Simpson was unable to match the five games he managed in his debut season, taking the field for the AFL side just once in his second year at the club.
The hard-working Cat's year was impacted by injury.
Stats
Games Played – 1
Disposals – 7
Tackles (Avg) – 3.71
Standout Game (VFL)
Round 13 vs Werribee – 22 disposals, 8 marks
Coaches Comments (Shane O'Bree):
"Sam had an amazing pre-season but was hampered by knee soreness and then a shoulder injury throughout the year.
"We really rate Sam just purely by his work rate and his ability to play multiple roles. We hope he comes back and just keeps putting on size and gets fitter, which he has done."
The views in this article are those of the author and not necessarily those of the AFL or its clubs