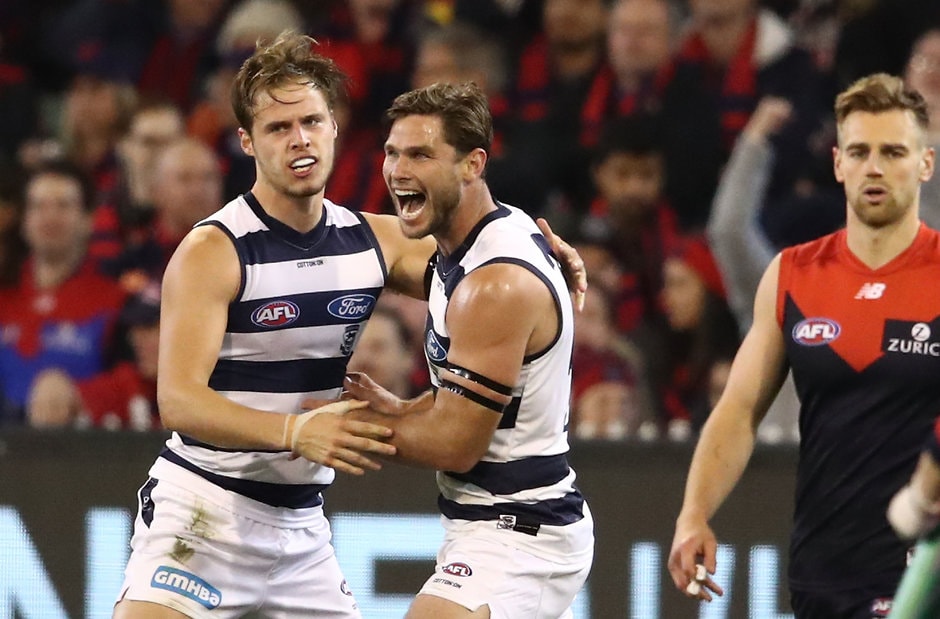 GEELONG forward Tom Hawkins says bolstering the Cats' line-up with a combination of young and established talent would help regenerate the list after a disappointing end to 2018.
Hawkins told the Geelong Advertiser that he approved of targeting players originally from the region, such as Luke Dahlhaus and Gary Rohan.
"When you can bring elite players in that are from around the area, it is always a bit more appealing to go after those types of players," Hawkins said.
"They (Dahlhaus and Rohan) are both proven in their own right to an extent so for me with where I am at and where I think the list is at, (with) some top end talent pushing towards the back end of their career, I think it is a good thing to try to bring people in.
"And they are still at an age where, with our list and where it is at, they are in their mid-to-late 20s and we don't have a lot of those players so it is always good to bring in players around that age.
Hawkins, who kicked 60 goals this year, said the Cats should also look to bring in some young talent to complete a balanced off-season.
"In saying that I still think we need to go to the draft and we need to look at young talent, like we have done, and we have had some really successful picks outside the top 25," he said.
"Like we always do we back in our list managers and recruiters to build the right team round us.
"There is no need for drastic change but we certainly do need to look at what we are doing and make sure we are on the right track."
Hawkins was upfront in his assessment that Geelong needed to improve in 2019.
"It is really disappointing, that is the overriding feeling among the playing group at both levels and personally, and probably from a holistically point of view including our supporter base," he said.
"Every year there are 17 other clubs that say they are disappointed, but it is clear that we need to get better and change in certain areas.
"In terms of what that exactly looks like, it is a bit hard to say at the moment, but certainly the club is already having these conversations and putting things in place. It is really clear that we need to get better."
The views in this article are those of the author and not necessarily those of the AFL or its clubs