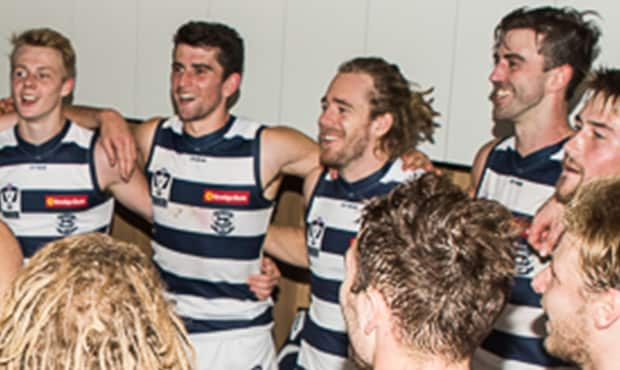 Cam Guthrie made a successful return from injury through the VFL on Saturday.

The Cats' 100-point victory was Guthrie's first game since injuring his ankle in round three of the AFL season.

The midfielder had surgery on his right ankle and spent almost two months on the sidelines.

The 25-year-old got through the match unscathed and was pleased to finally be back playing football.

"It has been a long eight weeks floating around the club and not playing so to be back there for the first run in a while was a good feeling," Guthrie said.

"You can train as hard as you want but you can't really replicate (the feeling of) a game."

Guthrie had limited game time on Saturday but says that his ankle held up well, experiencing no soreness after the match.

"I felt really good, the actual surgery reinforces the ankle so there was less (worry) about actually re-hurting the ankle and more about just feeling comfortable on it," he said.

"I played three quarters this week, hopefully a bit more next week."

Guthrie was joined in the VFL side by returning duo Lachie Henderson and Scott Selwood.

The three players have all spent numerous weeks on the sidelines and Guthrie was pleased that they could all finally suit up for a game.

"It was good, I spent a bit of time in rehab with those boys so any time someone is injured and gets a chance to return, you are pretty pumped for them," Guthrie said.

"It was a similar situation for those guys, to just get a bit of run in the legs.

All three players have intentions of getting back to the AFL side but Guthrie understands that just being fit doesn't guarantee you a spot.

With the senior side playing well and the Cats' injury list shrinking, there is a greater competition for spots and Guthrie welcomes that challenge.

"Everyone is playing great footy so it is competitive for spots," he said.

"I'm definitely not just going to walk back into the team, so I'll get a few games under my belt in the VFL and just go from there."

The VFL Cats will travel to Port Melbourne in round 11 to take on the Borough.
The views in this article are those of the author and not necessarily those of the AFL or its clubs