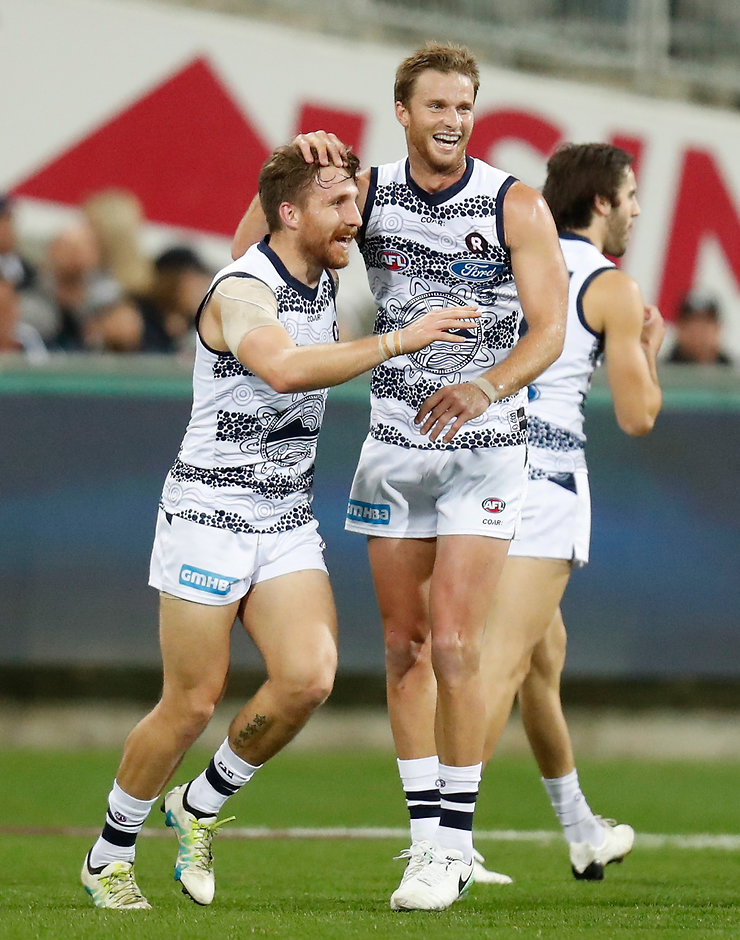 ZACH Tuohy believes Geelong teammate Lachie Henderson can still play a part in the 2018 season but wants his fellow defender not to rush back when he overcomes his knee injury.
Henderson has endured three surgeries on his knee since the end of last season, did very little pre-season training, and was last month placed on the Cats' long-term injury list.
Tuohy said the Cats had tentatively penciled in a return date around their mid-season bye, which lands in round 14 on the weekend of June 22-24 but hoped Henderson would resist temptation to rush back.
"It's been really frustrating for him," Tuohy told SEN on Thursday morning.
"He did his own pre-season, really, didn't train with the team and then had a few setbacks.
"I think they're looking sometime around the bye, give or take, but me as a teammate and a friend, I'd rather be cautious and not have him for a few extra weeks past that and make sure he's cherry ripe.
"He's still one of the best runners we've got, his touch might take a week or two, but I suspect if he's physically good to go, he'll certainly wrestle his way back in."
The Irish defender joined the chorus of players confused about umpire contact in the wake of teammate Tom Hawkins' one-game suspension and this week's fining of Gold Coast's Steven May and Carlton pair Ed and Charlie Curnow.
"I'd love to be able to," Tuohy said, when asked if he could explain what players were allowed to do when it came to umpires.
"Of course, umpires are off limits, so we all get that.
"I'm slightly torn with the decision on the weekend; I'm torn between Ed Curnow being one of the best blokes I've ever met in footy and being happy he's off, and just not really understanding what it is we're supposed to do.
"I thought Hawkins would get off with a fine, but when he didn't, and the precedent was set, I can't really understand how it hasn't been followed through this week."
The AFL has since appealed the Tribunal's "manifestly inadequate" outcome of the Curnow brothers' cases, with a hearing on Thursday afternoon.
Geelong superstar and AFLPA president Patrick Dangerfield has already slammed the Tribunal's "farcical" decision to downgrade their charges, and said it was "absolutely ridiculous" that this week's three incidents were dismissed when Hawkins was rubbed out.
Tuohy said umpire contact wasn't a big issue in his native game of Gaelic football, but there had been no tolerance for it in the past.
"There was a big incident a couple of years ago when one of the players slapped the book out of the referee's hands and he ended up getting a six-month ban," he said.
"It's highly frowned upon as well, but outside of that incident, I don't recall much talk around it in the past."
The views in this article are those of the author and not necessarily those of the AFL or its clubs