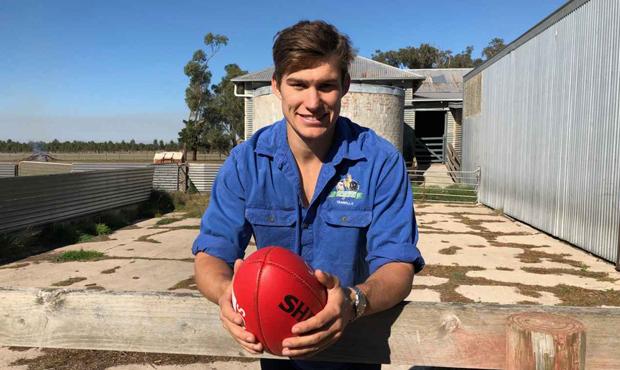 Timm House was born and bred on a farm in the Western Australian wheatbelt, so it comes as no surprise that he was hard at work at the moment he got drafted.
House told the The Weekly Times that he was driving a truck carting grain when he found out he had been drafted to Geelong.
"I was literally driving the truck, and I got a call from a good mate saying I had been picked up by Geelong in the draft," he said.
"I had been keeping an eye on it during the day, but I'd missed pick 68 — I wasn't watching while pick 68 was drawn, and that was the one I needed to watch."
The closeness of the farming community to House's heart means that this week's Powercor Country Festival, which will transform Yarra Park prior to the Cats and Bombers showdown, holds special significance.
"I think the country game is a really good opportunity to recognise people from the country and people that support footy and follow footy," House said.
"It can be quite isolating living on a farm in the country, and weekend sport is a highlight for a lot of people.
"It certainly was when I was growing up and living at Gnowangerup."
House got his chance in the AFL system after moving to Victoria in 2015 to complete a farm management course at Marcus Oldham College.
He joined Newtown and Chilwell in the GFL, where Geelong triple premiership player David Wojcinski was coaching.
"That was a bit of a shock, being coached by a Geelong AFL legend," House said.
"It made me realise how much of a small town Geelong was really, having AFL players mingle in local footy clubs and that sort of thing I certainly wasn't used to.
"I only played reserves at Claremont … moving to the GFL was a big step up. There was a lot of very good players in the GFL … it took me a while to adjust and it was my first taste of senior footy so I learned a lot in that year while I was playing at Newtown."
House helped Newtown make the Grand Final and was asked by Troy Selwood to train with Geelong's VFL team in the pre-season.
His outstanding form led to that call on a truck in Gnowangerup, where he found out he would be taking his place on an AFL list.
He now lives just outside Geelong on a 600ha property. House will give his shot at the AFL everything he's got, but he knows where he will end up once his career does come to an end.
"It's hard to see myself anywhere else (other than on a farm) really," House says.
"It's a great lifestyle and I don't think I could live in the city forever. Hopefully Dad lets me come home and help him on the farm, or see where I'm at after my footy career, but farming is my No 1 option after football."
The views in this article are those of the author and not necessarily those of the AFL or its clubs