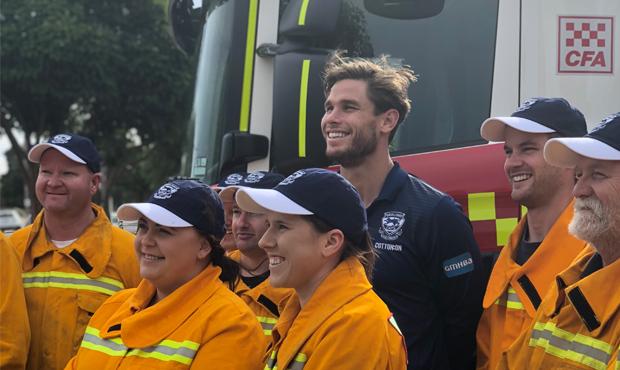 The Powercor Country Festival will again recognise and pay tribute to thousands of volunteers from regional communities in a special pre-match ceremony involving the Country Fire Authority.
CFA volunteers will form a guard of honour for both teams when they run out onto the MCG and will feature in the pre-match ceremony, unfurling an oversize Australian flag during John Williamson's performance of Waltzing Matilda.
AFL legend Kevin Sheedy said the partnership with the Country Fire Authority was a great alignment for the Country Festival.
"This partnership is a really important opportunity for the AFL community to thank the CFA volunteers who risk their lives to keep our communities safe," Sheedy said.
"The CFA brigade in every country town, similar to the local football club, represents the very essence of Australian values and culture and during difficult times, is the fabric that keeps a community together.
"CFA volunteers play a vital role in every community across Australia and it is only fitting we recognise their courage and commitment as part of the Country Game activities."
CFA CEO Paul Smith said the brigade was proud to be involved in the Country Festival.
"One of the foundations of many country towns are the local footy club and the CFA brigade."
"CFA is thrilled to be taking part in the Country Game again this year."
"Our volunteers are ready to protect their communities every day, and it's both an honour and fitting to have their importance to country Victoria recognised during the Country Game."
FACTS ABOUT THE CFA
CFA (Country Fire Authority) is a volunteer and community based fire and emergency services organization, helping protect 3.3 million Victorians, and more than one million homes and properties across the state.
The CFA has 59,000 members - 97 per cent of whom are volunteers – working across 12,000 stations in outer Melbourne as well as rural and regional Victoria.
Along with other emergency services the CFAattend 35,000 incidents a year including bushfires, structure fires and rescues
The CFA works with the community to prepare for emergencies and build resilience
The views in this article are those of the author and not necessarily those of the AFL or its clubs