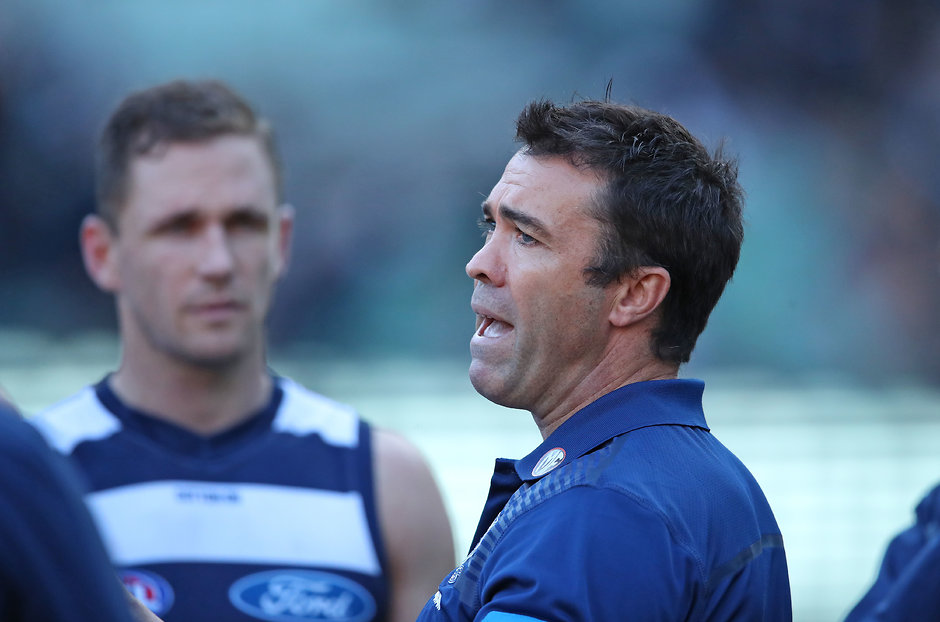 ANOTHER senior coach has weighed in on Hawthorn coach Alastair Clarkson's Monday morning meeting with AFL CEO Gillon McLachlan.
Geelong's Chris Scott said he wasn't sure the meeting was "an appropriate look", after Sydney coach John Longmire described the meeting as "unusual and unnecessary".
Clarkson had not been happy with the adjudication of several marking contests in the Hawks' close loss to the Swans on Friday night, believing some of his forwards had been blocked.
Scott was appearing alongside St Kilda coach Alan Richardson on Fox Footy when he discussed the issue.
"I think it's put Gill in an awkward position. I think 'Richo's' right, there's a number of people you would speak to before you spoke to Gill about specific issues in a game, especially two days post a loss," Scott said on Monday night.
"I'm sure Alastair would have been thinking, 'this is more bigger-picture stuff', but once again I think Gill's been pretty clear that he's not the go-to on that sort of stuff.
"There's an umpire department, (AFL football operations manager) Steve Hocking, [but] to go straight to the CEO – I think Alastair's more comfortable doing that than most of the other coaches – but again, I think Gill's been pretty clear that he doesn't get involved in the day-to-day adjudication of the rules.
"To do it in a public place, I'd probably support 'Horse' (Longmire) on this one, I'm not sure it was an appropriate look."
Richardson had earlier said he would approach umpires boss Hayden Kennedy if he had an issue with umpiring decisions.
"If I had an issue personally, and it's happened a couple of times this year, with anything to do with the way the game is umpired, then I'll ring Hayden Kennedy and get clarification," Richardson said.
"In the past, I've spoken to Mark Evans, when he was the head of footy, but I don't have the relationship that someone like 'Clarko' or 'Scotty' that have been involved with international rules would have with someone like Gill, so I don't know if that makes things easier.
"I was surprised (when he heard about the meeting) based on what I've just mentioned. The process, from my perspective, is if it's an issue with the way the game's been adjudicated, I'd speak to the head of the umpiring."
Meanwhile, Scott said he didn't have a problem with Tom Hawkins' one-week suspension for intentionally making contact with an umpire, despite Gold Coast's Steven May getting a fine on Monday night for the same charge.
"I thought it was a really sensible, common-sense approach to the Steven May incident," he said.
"We stand by our decision as a footy club and Tom's decision (to suggest a one-match ban would be appropriate) that it was bigger than just Tom.
"It's easy for us to say that now because we won the game without him on the weekend, but if the game said that's OK, then we saw incidents at lower levels, I think we'd feel terrible. So, we're OK with that."
The views in this article are those of the author and not necessarily those of the AFL or its clubs