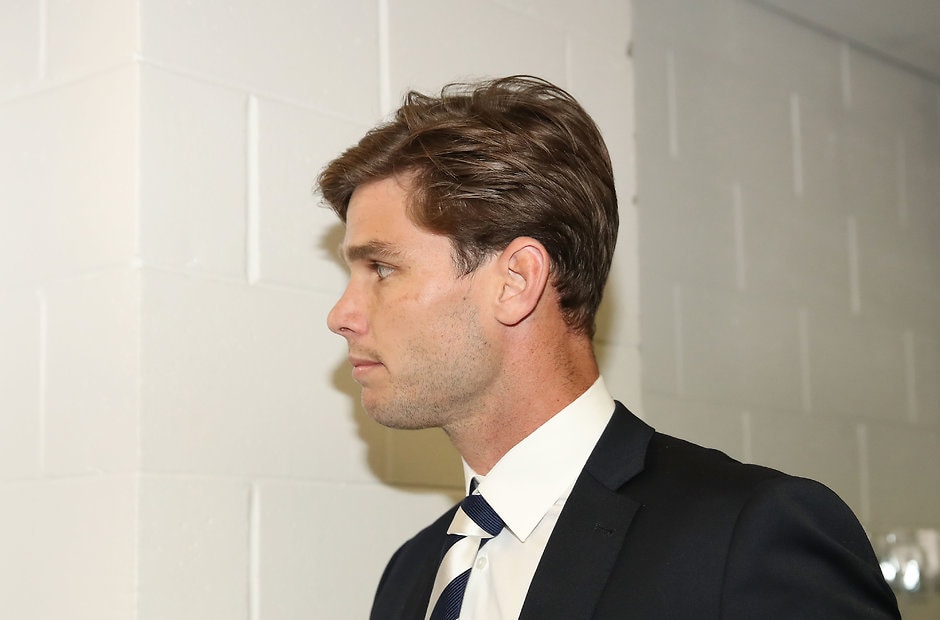 A REMORSEFUL Tom Hawkins will miss Geelong's blockbuster round eight clash against Collingwood after the AFL Tribunal suspended him for one match on Tuesday evening for intentionally making contact with an umpire.
Hawkins pleaded guilty to intentionally touching umpire Dean Margetts during the second quarter of Geelong's win over Greater Western Sydney last Friday night.
After preliminary discussions between his lawyer, Ben Ihle, and the AFL's representative, Jeff Gleeson QC, Hawkins indicated to the Tribunal at the start of the hearing that he accepted a one-match ban would be an appropriate penalty.
"I absolutely respect the umpires and their importance to the game at all levels," Hawkins said after Tribunal's verdict.
"The Tribunal came up with a decision today that was in the best interests of the game and I totally respect that."
The Tribunal jury of Michael Jamison, Richard Loveridge and David Neitz deliberated for just three minutes before reaching their verdict, having been directed by chairman Ross Howie to have regard to the importance of making a decision that acted as a general deterrent.
"It is about giving a message to all other players and, you may think not only to all players playing Australian football, that the position of the umpire is sacrosanct," Howie told the jury members.
"All around the state and suburbs each weekend footballers are going out and umpires are taken out with an escort and back with an escort, all with the message that when players can lose their tempers that you have to protect the umpire.
"That role of education under the role of general deterrents is important."
Hawkins made contact with Margetts as the umpire approached him after paying a free kick and 50m penalty paid against him, pushing the umpire's hand away.
Hawkins agreed to plead guilty after learning the AFL would only seek a one-game suspension if he did so.
Gleeson told the Tribunal the AFL would have sought a two-game ban had Hawkins pleaded not guilty, saying the spearhead's action had been made in "frustration and anger, in a hostile environment, and was not done in jest".
Ihle told the Tribunal Hawkins agreed he touched Margetts in frustration, but did not accept he did so in anger, describing his action as "a reactionary split-second decision".
Ihle said Hawkins immediately realised he had "crossed the line", apologised to Margetts twice during the game and had subsequently been "deeply disappointed in himself".
Hawkins' lawyer also argued the incident had occurred after the spearhead had made his way out of a "conflict zone" in which GWS players were attempting to remonstrate with him, while he had instinctively brushed Margetts' hand away after the umpire had run in and raised it towards his chest.
Intentional contact with an umpire is an offence that is sent directly to the Tribunal, whose jury members then have absolute discretion to decide the appropriate sanction.
Hawkins' suspension is in line with the most recent precedent, with Heath Shaw hit with a one-match suspension and $1900 fine in 2009 for intentionally making contact with field umpire Michael Vozzo.
Hawkins accepted a $2000 fine on Monday for engaging in rough conduct against Giants defender Nick Haynes during the second quarter of Friday night's game.
The views in this article are those of the author and not necessarily those of the AFL or its clubs