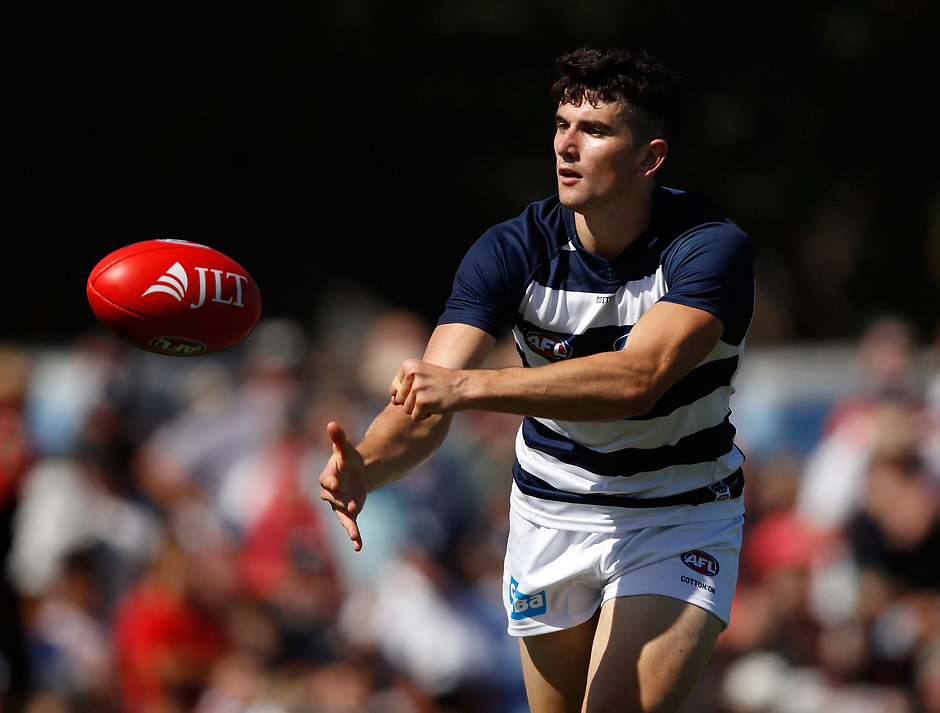 Mark O'Connor is always looking to grow as a footballer.
The second-year Cat has recently started to add more versatility to his game after playing largely as a wingman in 2017.
Since the start of the 2018 campaign, O'Connor has played in a variety of roles for both the AFL and VFL side before being used predominantly as a defender in Geelong's VFL loss to Sandringham on Sunday.
The wet conditions made life tough for the Geelong defenders in the match but O'Connor enjoyed his role down back and saw it as a great learning experience.
"The conditions were pretty tricky, when it's wet it is just hard to use the ball in short so I think we were going for territory a bit more but overall it was a bit of a mixed day for me," he said.
"Obviously losing that way is not enjoyable but there is plenty learnt from that game."
The 21-year-old is happy to play wherever the team needs him and hopes that his newfound versatility will see him add to his tally of three AFL matches.
"I enjoy down back and on the wing, I tend to mix it up a bit and have plenty of variety but I'm really enjoying footy anyway," O'Connor said.
"As long as I can keep working on my craft down back and on the wing, hopefully I really grow as a player and I'll be able to put my hand up again for AFL footy."
O'Connor played two senior games in 2017 and late last season set his sights on being part of the AFL side for round one.
The young Irishman was named in the Cats' opening round line-up before an untimely training injury saw him ruled out of the match just two days prior.
"It had been a goal of mine all of preseason and at the end of last year that I really wanted to be in for round one," he said.
"I really thought that would make a statement and obviously the Friday before the game I rolled my ankle.
"You just have to get over these things really quickly because there is always going to be a game next week so you can't be too down on yourself but at the time it was pretty frustrating."
After recovering from the ankle injury, O'Connor earned a place in the AFL side and performed admirably in the Cats' Easter Monday clash with the Hawks.
The rookie then headed back to the VFL where he has looked to improve aspects of his game and add to his developing skillset.
"(The coaches) have told me a few things like being quicker on the ball and making better decisions," he said.
"I'm putting the work in with all the coaches and going through edits of different scenarios and I'll try and work through it."
His willingness to grow as a player and learn as much as possible has seen O'Connor adapt quickly to the Australian game since moving from Gaelic club Kerry in 2016.
Putting a greater emphasis on training his defensive side has allowed the rookie to work with different coaches and players, including a fellow Irishman who has been a great model to O'Connor.
"I try to pick up different things from different people but obviously Zach Tuohy is a good ball user so I try to knock on him if there is anything I need to know about that," he said.
If not selected at AFL level, O'Connor is looking forward to building his craft at VFL level and help his side get back on the winners list.
The VFL Cats will take on Footscray at GMHBA Stadium on Saturday.
The views in this article are those of the author and not necessarily those of the AFL or its clubs