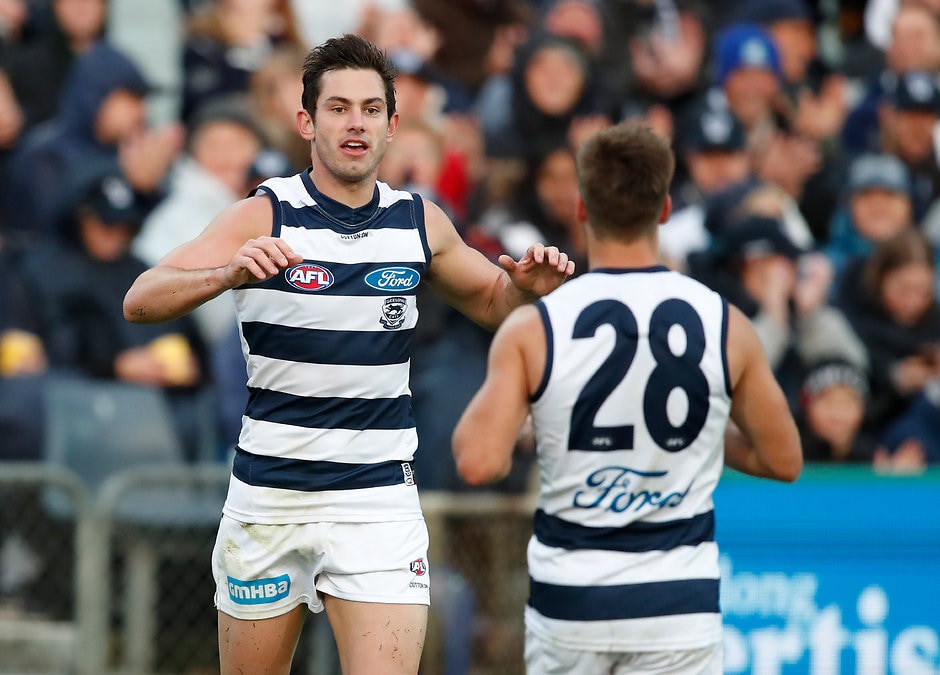 Despite Daniel Menzel's stunning start to the season, the Geelong forward – who is out of contract at the end of the season – won't be offered a long-term deal.
Menzel has kicked 14 goals from his four games this season, including five against St Kilda on Sunday.
The 26-year-old didn't play any AFL-level matches between 2012 and July 2015 after undergoing four knee reconstructions across both his knees.
On Monday night, Cats coach Chris Scott said he had spoken to Menzel about his future contract.
The forward signed a one-year deal at the end of last season.
"We're happy to have him contracted and looking forward to having him play again," Scott told Fox Footy.
"The thing Dan understands clearly, and I've had this discussion with him again recently, he's just not a candidate for a long-term deal due to his injury history. No responsible club would do that.
"He understands that, there's been a history of really high-level players who have played on one-year contracts. I think [AFL games record holder] Brent Harvey might have played on one-year contracts for his last eight years. It doesn't preclude him from playing good footy."
Menzel has been one of the best-performed medium forwards this season, with only big key forwards Lance Franklin and Ben Brown sitting ahead of him in the Coleman Medal tally.
He's also averaging 14 disposals a match (up from 12 last year) but has only laid three tackles in four matches.
His defensive pressure was a talking point late last season when he wasn't selected for Geelong's qualifying final against Richmond.
Scott was also quick to counter a suggestion Geelong wanted to trade Menzel at the end of last season.
"Can I clear that up? Because I've heard it a few times. We never ever offered Dan Menzel as a trade. He was an unrestricted free agent," Scott said.
"There took a long time to get the deal done, there was some possibility he might leave. But there wouldn't have been any compensation coming back our way. It wasn't in our interest to move him."
The views in this article are those of the author and not necessarily those of the AFL or its clubs