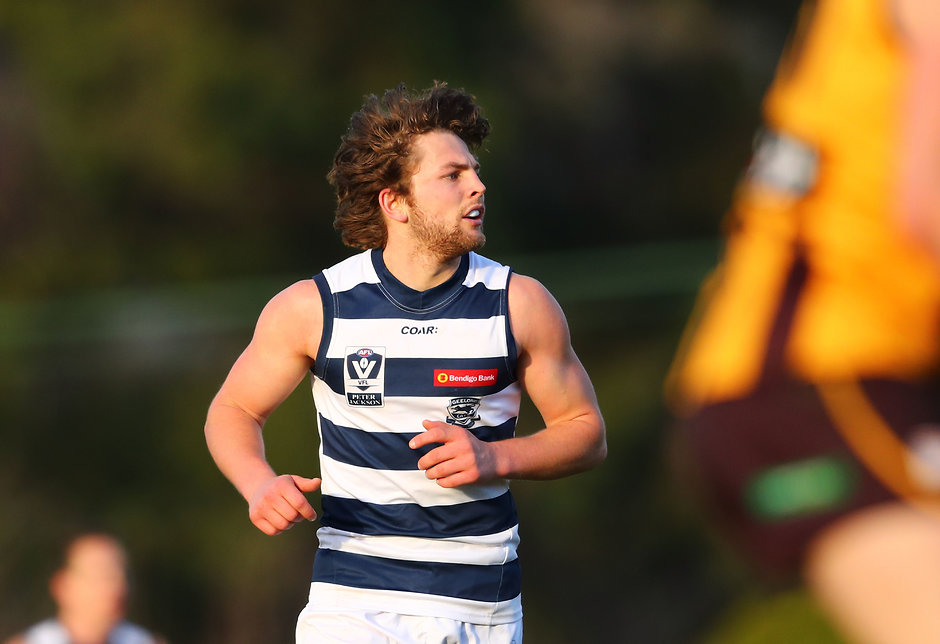 The Bendigo Bank Cats have finalised their 2018 playing list, comprising of 24 VFL listed players and 10 development listed players.
Only nine of the 2017 players retain their spot on the Cats' senior list as well as Cal Mitchell and Patrick Dowling, who have earned a promotion from the 2017 development list.
The rest of the squad will comprise of players from surrounding regions and a surprisingly high number hailing from outside Victoria.
The GFL and TAC Cup are well represented whilst there are also a host of names from the Ballarat Football League, NEAFL, TSL and Northern Territory Football League.
The Geelong VFL program gives these local footballers a platform to showcase their ability in Victoria's premier competition and further improve themselves in a professional environment.
The profound impact that the VFL pathway can have on a player is evident through the likes of Tom Stewart, Ryan Abbott and Timm House going from local footballers to AFL listed players through the VFL pathway.
In 2017, the VFL Cats recruited two players from Tasmania and have continued that trend with the inclusion of former Clarence duo Sam Siggins and Aiden Grace.
Siggins, a former AFL draftee with the Adelaide Crows, has spent the past two seasons playing in the TSL and joins the Cats with ambitions to reignite his AFL career.
Another former Crow in the Cats' squad is Dean Gore who returns to Kardinia Park after two years on Adelaide's list.
Gore's start to life as a Cat has been unfortunate as the inside midfielder suffered a devastating knee injury in the preseason and is unlikely to take part in the 2018 campaign.
The Cats have targeted numerous players with VFL experience to have an immediate impact on the side.
New signings Luke Kiel, Nathan Horbury (North Ballarat) and Jordan Keras (Footscray & Werribee) are all mature players that have years of experience in the competition.
Kiel was captain of the Roosters last year but left after his former club were removed from the competition whilst reigning BFL Best & Fairest Horbury was looking to play at a higher level again.
Keras most recently played for NEAFL club Southport and claimed the league's MVP before jumping at the chance to play for his hometown Cats.
Also making a big move down to Geelong is former NT Thunder forward Lochlan Dhurrkay, who joins after most recently playing for Palmerston in the NTFL.
Whilst the Cats have reached far and wide to select this year's squad, they have continued to select a host of names from the GFL talent pool.
St. Joseph's premiership winning star and GFL Team of the Year member Jackson McLachlan has been signed up after a breakout season that saw him win the GFL Rookie of the Year award.
Colac spearhead Luke Hillman and teammate Zach Zdybel also earn spots after the Tigers' preliminary final run in 2017.
Former Geelong Falcon Mitch Diamond also joins after an outstanding season for Newtown & Chilwell.
Diamond is one of many former TAC Cup stars to join the Cats squad, along with Greater Western Victoria Rebels duo Kyle O'Connor and Aiden Domic.
Premiership winning Geelong Falcons David Handley and Lachie Noble also join the squad and will be part of a 10-man development list which includes a host of youngsters looking to improve their game.
Brothers of AFL Cats, Fraser House (Timm) and Curtis McCarthy (Lincoln) have made the move from interstate and will join the squad.
The likes of former St. Kilda draftee Jay Lever, Cooper Jones, Will Sexton and St. Mary's trio Tom Lang, Trent McMullan and Jack Blood round out the development squad.
The development list is a valuable pathway for young players be elevated to the senior VFL list for season 2018, highlighted by the path of Cal Mitchell last year.
Whilst the squad consists of various new faces, numerous players have been retained with Daniel Capiron, Ben Reid, James Gow, Campbell Floyd and Harry Kol all returning for another season.
Reigning VFL best and fairest winner James Tsitas will also represent the Cats once again, as will Geelong VFL regulars Tom Atkins, Sam Dobson and Sam McLachlan.
The VFL Cats kick off their 2018 campaign in Torquay on Sunday, April 1 where they will face Werribee.
2018 Geelong VFL List:
Daniel Capiron – St Joseph's (Interchange Club)
James Tsistas – Grovedale
Nathan Horbury – Redan
Jordan Keras – St. Joseph's
Sam Siggins – St. Mary's
Luke Kiel – Bell Park
Ben Reid – Echuca
Mitch Diamond – Newtown
Luke Hillman – Colac
Aiden Domic – Bell Park
Campbell Floyd – Colac
Sam Dobson – St Mary's
Tom Atkins – St Joseph's
Sam McLachlan – Colac
Aiden Grace – St. Mary's
Harry Kol – St Mary's
Lochlan Dhurrkay – Newtown
Zach Zdybel – Colac
James Gow – Bell Park
Cal Mitchell – St. Joseph's
Dean Gore – St. Mary's
Jackson McLachlan – St. Joseph's
Pat Dowling – St. Mary's
Kyle O'Connor – Bell Park
2018 Geelong VFL Development Squad:
Tom Lang – St. Mary's
Jay Lever – South Barwon
Jack Blood – St. Mary's
David Handley – Geelong West
Curtis McCarthy – St. Joseph's
Fraser House – Newtown
Trent McMullan – St. Mary's
Will Sexton – South Barwon
Lachie Noble – South Barwon
Cooper Jones – Bell Park
Check out the 2018 VFL Player Profiles.
The views in this article are those of the author and not necessarily those of the AFL or its clubs