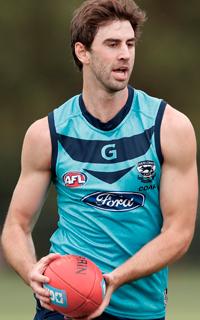 Ryan Abbott is slowly building up his workload after a first pre-season at the Cattery that has been interrupted by two injuries.
The 200cm big man fractured a bone in his leg in a training mishap in December.
He returned to the track in January, only to suffer a stress reaction in his back.
"Whether that's adapting to the workload or not, I'm not 100 per cent sure," Abbott told the Geelong Advertiser.
"The frequency and intensity is a pretty big step up from local level, but the more I do it the body will adapt to it."
Abbott is now hoping to be back to full fitness by the start of the home and away season.
"There is a little bit of frustration just in seeing the other first-year boys out there," he said.
"But I feel like when I have been able to train I've got a lot out of it so far, so it just makes you want to get back as quickly as you can.
"But we aren't really working on a timeline at the moment. It's really just how my body is reacting.
"But just week-to-week it's improving which is good.
"We're not too concerned with the preseason games, it's just about trying to get back as soon as possible (for the AFL season) really."
The views in this article are those of the author and not necessarily those of the AFL or its clubs