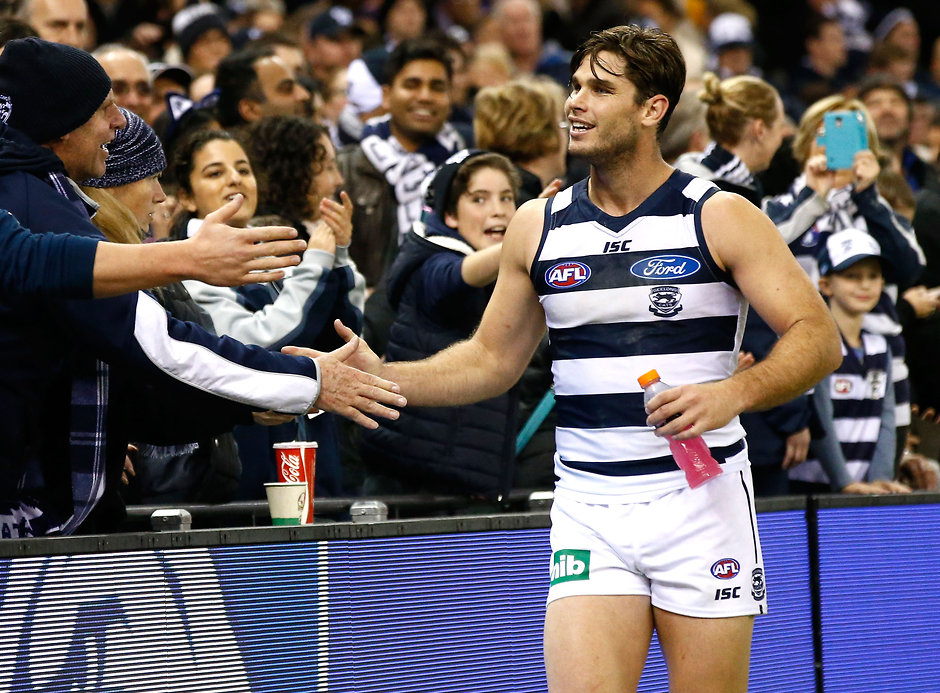 POWER forwards aren't going away any time soon, according to Geelong big man Tom Hawkins.
Of course, the dual premiership forward would say that given he has been one of the game's best performers in that role for most of the decade.
But he has an important ally in coach Chris Scott, who says football's rare breed of match-winners won't be forced into extinction under his watch.
"With the reduction in the interchange there was some commentary around the idea of the big power forward not being as effective," Scott said.
"We actually have a different view to that - in fact the completely opposite view."
That's good news for the amiable Hawkins who, at 27, has plenty of big football moments ahead of him.
"The game is not passing Tom by," Scott said.
"He has got a long, bright future for the Cats."
But it's the immediate future that is on both men's minds.
They understand Hawkins' importance in the second half of the season if the Cats want to make a genuine tilt at the flag.
Although the Cats are on top of the ladder, improvement from the key forward would make them scary.
For his part Hawkins, who is not rapt with his performance so far this season, is determined to get better.
He knows he has played his role in the functioning forward line adequately.
But his self-assessment is blunt.
"[I] certainly haven't had my best year this year," Hawkins told AFL.com.au.
"I've struggled a little bit individually."
He has still kicked 28 goals and is equal leader for marks inside 50 with 46 grabs within range.
And the once wide-eyed Tomahawk has matured enough to measure the worth of his game on his contribution to the team rather than individual tallies.
"I understand a bit more now that individually you don't need to go out and kick four or five goals each week [and] take 10 marks," Hawkins said.
"It's how you play the role."
Scott has been content with Hawkins' performance but believes his best is to come in 2016.
"His game has evolved a little bit," Scott said.
"Even last week there have been some tweaks to his game that have led to some improvement."
Most obvious were two contested marks that led to two goals late in the game against the Western Bulldogs last Saturday, making him appear as fresh as a toddler tormenting tired parents.
Less apparent was how Hawkins made good out of a bad situation after being controversially suspended for one match for striking Greater Western Sydney's Phil Davis and missing round 12.
"I got to freshen up [and] feel good physically and mentally," Hawkins said.
"[The break] gives you that hunger for that game again…when you are not playing you really appreciate the fact you can go and play on the weekend."
This year, playing in a different looking forward line including the talented Daniel Menzel, the rapidly improving Shane Kersten and pacy types Lincoln McCarthy and Nakia Cockatoo, Hawkins has stood firm while a new structure appeared around him.
That reality has mitigated any dissatisfaction.
"It has been really enjoyable," Hawkins said.
"If you are playing your role within the side you generally get picked the next week."
And the next and the next and the one after that too, as Hawkins plans to maintain his rage inside the Cats' forward 50 for years to come.
"The role of the power forward has changed and will keep changing but there is always a role for power forwards in the game," Hawkins said.
The views in this article are those of the author and not necessarily those of the AFL or its clubs