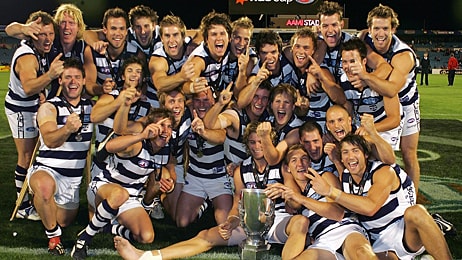 Geelong has won the night cup three times in its history. In the early years the competition was open to the eight clubs that missed the final four, with matches played at the Lakeside Oval. Geelong won the 1961 competition with a grand final win over North Melbourne.
The second win came in 2006 in the NAB Cup, with an amazing come from behind win over the Crows in Adelaide. The Crows led by as much as 28 points before the Cats clawed back to win, with Cameron Mooney kicking three last quarter goals.
The third win came in 2009, when the Cats dominated against Collingwood at the Docklands, running out easy winners by 76 points.
1961: Geelong 9.20 (74) dft. North Melbourne 9. 8 (62)
B: Terry Callan – Roy West – Brian Lowe
HB: John Devine – George McGrath – Darryl Stephens
C: Eric Nicholls – Alistair Lord – Colin Rice
HF: Bob Norman – Fred Wooller – Bill Miller
F: Graeme O'Donnell – Doug Wade – John Yeates
Foll: Doug Long – Paul Vinar – Matt Goggin
Res: Frank Pomeroy - Neil Sutherland
Coach: Bob Davis
Goals: O'Donnell 3, Wade 2, Yeates, Callan, Wooller, Norman 1.
2006: Geelong 3.10.5 (92) dft. Adelaide 1.10.15 (84)
B: Josh Hunt – Matthew Scarlett (cap) – Will Slade
HB: Shannon Byrnes – Matthew Egan – Max Rooke
C: James Kelly – Jimmy Bartel – Joel Corey
HF: Darren Milburn – Charlie Gardiner – Corey Enright
F: Paul Chapman – Tom Lonergan – Kane Tenace
Foll: Cameron Mooney – Cameron Ling – Gary Ablett
Int: Matthew Spencer, Henry Playfair, David Johnson, Mark Blake, Brent Prismall, Andrew Mackie
Coach: Mark Thompson
Nine point Goals : Hunt, Ablett, Corey 1. Six point Goals: Mooney 3, Chapman 2, Ablett, Kelly, Rooke, Playfair, Byrnes 1.
2009: Geelong 0.18.19 (127) dft. Collingwood 1.6.6 (51)
B: Darren Milburn - Matthew Scarlett - Andrew Mackie
HB: Joel Corey - Harry Taylor - Josh Hunt
C: Jimmy Bartel - Corey Enright - Cameron Ling (cap)
HF: Max Rooke - Tom Lonergan - Ryan Gamble
F: Steve Johnson - Tom Hawkins - Paul Chapman
Foll: Brad Ottens - Joel Selwood - Gary Ablett
Int: Mathew Stokes, Mark Blake, Travis Varcoe, Shannon Byrnes, Dan McKenna, Simon Hogan, Kane Tenace, David Wojcinski
Coach: Mark Thompson
Goals: Ablett 3, S. Johnson 3, Selwood, Chapman, Lonergan, Stokes 2, Gamble, Varcoe, Tenace, Bartel 1.