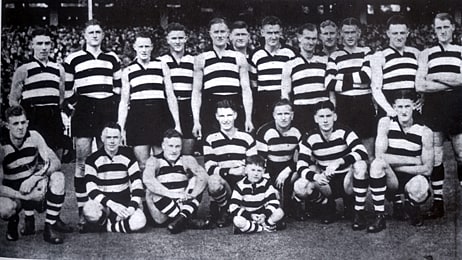 Geelong took out the minor premiership by finishing with 15 wins from 18 games, and went on to win its third league premiership.
A 12 point win over Melbourne saw Geelong advance to the grand final, where Collingwood sought yet another premiership. The Magpies raced to an early three goal lead before Geelong cut the deficit to five points at the main break.
Scores were level at three quarter time before a six goal to one final term saw the Cats take the flag in front of a then record crowd of 88,540.
Geelong: 3.3, 8.5, 12.8, 18.14 (122)
Collingwood: 6.3, 8.10, 11.14, 12.18 (90)
Goals: Evans 6, J. Metherell, Coles 4, Abbott 2, Sellwood, Wills 1.
Best: Muller, Quinn, L. Hardiman, P. Hardiman, J. Metherell.
Line up:
B: Allan Everett - Reg Hickey (cap) - Bernie Hore
HB: Jack Grant - Joe Sellwood - Tom Arklay
C: Laurie Slack - Fred Hawking - Angie Muller
HF: Jim Wills - Gordon Abbott - Clive Coles
F: George Dougherty - Les Hardiman - Jack Metherell
Foll: Peter Hardiman - Jack Evans - Tommy Quinn
Res: Geoff Mahon
Coach: Reg Hickey
Also played in 1937
Leo Dean, Bill Dyer, Arthur Foley, Norm Glenister, Clyde Helmer, Stan Howard, Frank Johnson, Bernie Miller, Stan Mullane, Neil Tucker.