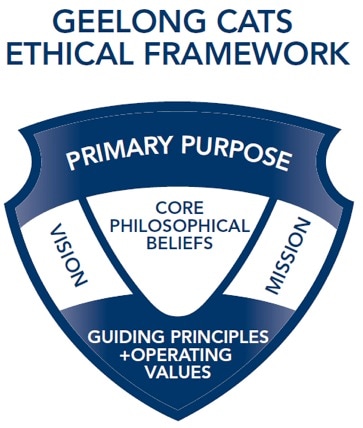 Our aim is to recruit individuals who, like the rest of us will live and breathe our Club values. Our values are the strong beliefs and consistent behaviours of people in our organisation. They describe the way in which directors, staff and players of the Club behave, interact & work together and determine the culture of the Club.
In all of our endeavors both on and off the field we strive to stay true to our primary purpose;
"(we exist) to instill a sense of unity and pride among our Cats members and fans by providing a range of inspiring, exciting and entertaining football experiences"
We also remain consistently aware of how we go about our business. It is in our conviction to live and work according to our beliefs that we build and strengthen our culture. We call this our ethical framework. The Geelong Cats ethical framework is the foundation on which we stand. It is greater than the rules, laws and codes of the game to which we are bound because it is our choice and intention to do more than the basics. This is the 'Geelong way'.
Our values are the strong beliefs, character traits and working relationships of people within our organization. They have been generated and vigorously debated within and they represent what we believe to be good and right. Those values are;
Respectful All people are treated with respect, regardless of their background of position

Precision We expect excellence in everything that we do and are accountable for maintaining a high performance environment
Adventurous We enjoy facing our industry's challenges and embrace progress with open arms
Conviction veryone involved with the Club is fully committed and gives 100 percent effort
United We are selfless, we support and care for each other and we collaborate across our Club
Commercial & considered We drive for good commercial outcomes but always take the needs of our stakeholders into account
Integrity We uphold high standards of behaviour, have deep respect for honesty and always work within the rules


Our ethical framework also includes what we believe to be right and wrong – our principles. These principles guide us in our actions great and small, local and global. They remind us of our duties to and the rights of our members, the community, the game of AFL, and to each other. Examples of Geelong Cats working principles include;
A commitment to being elite without being elitist; we will be inclusive
Equal opportunity and a fair go for all; we respect diversity
Our wins will not be achieved at all costs or through compromising our beliefs. We will win cleanly through spirit, talent and discipline.
We will be fair and hard in our pursuit of 'Good to Great'
The Club will remain accountable to the Geelong Cats ethical framework. Unlike a prescribed or static set of behaviours, the ethical framework provides us a guide to meet each challenge head on with good thinking and clear intentions.